Earlier this year, Apple announced the launch of the new iPhone 7 and 7 Plus, expected to be available in September later this year. There have been many rumours and guesses around what the device will offer above their already amazing are including the 6S and 6S Plus.
The iPhone 7 is expected to feature the same rounded corners and sleek designed found with the iPhone 6S. From what we've heard, the phone will not have many changes regarding design compared either. However, unlike the 6S, the camera is expected to be flush with the rest of the background and the antenna lines across the back will flow better with the device to offer a cleaner design. The device is also expected to be even slimmer with a width of only 0.24 inches, which might not be much compared to the 6S width of 0.28 inches.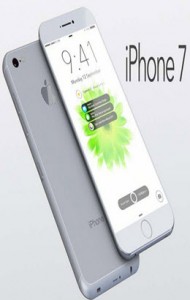 Apple is also expected to remove the standard audio Jack input as many users are simply using wireless headsets these days. However, they are also expected to use the lightning plug, which is currently available on newer iPhones as the charging and data transfer plug-in. This plug-in will provide much greater audio quality and with the bigger audio jack input removed, the device can be slimmer while making more space for new features.
Device audio quality will also improve as the space used for the standard audio jack will be replaced with another speaker. This will provide stereo sound quality, being a first on any smartphone device.
The iPad Pro device that was launched late in 2015 has also given away a few clues as to what is expected with the new iPhone 7. The smart connectors found on an iPad Pro are used for quick connection options with third party devices. The iPhone 7 are expected to have these posts, opening possibilities if wireless charging, much faster transfer rates, and also a few amazing gadgets that will work with these posts.
As with the iPAd Pro, the iPhone 7 is also expected to shy away from the 16GB options. Users should be able to choose from a 32GB, 64GB, 128GB on the standard iPhone 7, or a new 256GB with the iPhone 7 Pro.