Ever needed more space on your phone, but have no idea where to start removing. Some apps are massive and take up a lot of space and usually end up being the ones most used such as Facebook. However, there are now a few ways to get all the features and still keep in touch without taking up massive amounts of space on your device.
The Facebook Lite app is a great option for these purposes or when you are in areas with poor signal. The app only takes up 1mb of space and allows fairly fast refreshing even when only 2G networks are available. This means you would save a massive amount of space and have a faster browsing experience overall.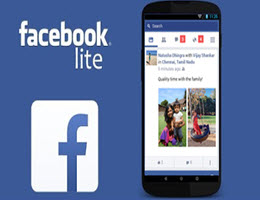 Most of you might be thinking the picture and video quality will be much lower. Yes, the quality have been lowered, will you be able to see a difference? Well, no not really, unless of course you zoom in on pictures. The app saves most of its space as useless menu options have been removed. These options are mostly interacted with while on PC, meaning mobile users are unlikely to use them.
If you take full advantage of everything Facebook has to offer, there are other ways to save space on your device. Instead of the app, why not go to the Facebook page on your mobile browser, log in, and create a shortcut on your home screen. This option is available for both Android and iOS devices. This takes even less space that the Facebook Lite app as only an icon will appear on the home screen, meaning it uses a few kbs.
The shortcut option will take you straight to the latest feeds and trends as it loads the page each time you open the app. This could be somewhat more data demanding, but for those connected to wi-fi, you'll never be sorry with the change. Users are offered all the features from the main Facebook, but it appears as an app as Facebook is HTML5 friendly.
So if you thinking about moving away from the normal Facebook app for the reasons above or any other reason, consider these options and take advantage of a new way to connect.