We all live under the rule of apps and frankly most people wouldn't have it any other way. Google Maps, National Rail and Uber are all apps that make sure we are on time, while Twitter, Facebook, and WhatsApp keep us up to date with social events. Cunningly smartphones have changed the way we communicate, the way we respond with words replaced by Emojis and Relay is allowing people to communicate via GIFs.
There are several apps that have the ability to improve your daily life in numerous ways, from daily doses of stunning art to giving you need recipe ideas. The more we use, the more becomes available. Swackett is a weather forecasting app that is somewhat different to the others; the app offers a guide on how to dress for the day's weather conditions from shoes to sunglasses and even accessories.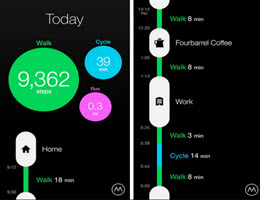 Calm transforms your phone from a business buzzing tool to an easy to listen to meditation all that is great to improve your mood, your sleep and helps you relax. The Meditation sessions range from two to ten minutes and if you remember to set your ring tone to silent this is a highly recommended app for everyone after a busy day.
Spitz is a speed-reading app that allows readers to scan text at a rate of one thousand words per minute; the app flashes words in the same spot to enable users to continue reading without wasting time to move their eyes across sentences. The app is recommended for a business meeting and lets you quickly scan through documents.
Moves is an app best described as writing your story. The app follows your every move and relays it into a story of your daily activities while it counts your steps, adds up your calories and it can do it from your pocket or handbag.
My Cloudtag is basically a personal trainer in your pocket. The app focuses on four main problems including general fitness, well-being as well as fitness and weight loss. Users get tailor-made programs to reach their goals, and the app is user-friendly and even enable you to check your email during workouts.