These two brilliant new mobile video game app releases offer both the serious gamers an opportunity at having a great laugh, while simultaneously tempt the avid crowd involved in comedy style gaming into cracking less of the laugh to instead pop off a few shots at moving targets while trying to assist their secret agent.
Lost Socks: Naughty Brothers recently received an early release into the App Store, this offers aficionados of run n' gun style play a perfect opportunity to follow on with exciting action from the developers of earlier classics that quickly reached cult status such as Rayman and Earthworm Jim. The Lost Socks early release can be downloaded from the App Store at $4.99, so players can quickly get into the main focus of finding the lost sock, while fighting the nibbles, only to later go on an defeat the powerful boss. Its heroic excitement can be found spread across 30 game levels chock-full of an impressive variety of game characters, obstacles, bonuses, as well as colourful playing locations, while obviously keeping becoming a dyed- in-the-wool hero at front of mind!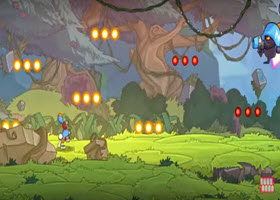 All hard-core video gaming fans will fall in love with this little gem, while still offering casual gamers a highly enjoyable action set despite the fact that gameplay may prove to be a little tough to the casual crowd. Gameplay is true to the developer's reputation stupendously varied, with players completing each individual challenge in their own distinctive way. Even the most hard-core and demanding video gamers will be satisfied and challenged by the in game obstacles and tasks. The developer sticking true to form requests, requires, or needs no irritating in-game purchases, which makes gameplay thoroughly immersive.
Secret Agent: Istanbul offers players a new shot at the latest in their favourite series of FPS, FMV, real action puzzlers. This game's unique style of presentation literally takes players on an adventure through real-life, the game achieves this by utilising interactive puzzles that are then blended with full motion video scenes in this upcoming new mobile videogame app. It will rush you a frantic pace right across the width and breadth of Istanbul where players will be required to identify secretive passcodes while solving numerous interactive puzzlers.