Both LG and Samsung debuted their brand-new high-end devices this weekend, with the G5 and S7 each delivering their own particular brand of modern technological magic and soon to find homes with doting new owners. The owners of these new devices will undoubtedly want to augment their list of ever-ready trusted standby apps with brand-new equally capable software to flaunt the capabilities of the new hardware to the fullest, the below will undoubtedly assist in doing so. To those of us not yet ready to swap for one of these brand-new devices will have to pacify ourselves with brand-new software that just may be equally innovative on our current mobile devices.
Two of the latest apps to surface include MyShake that will turn any smart phone into a mobile earthquake detector and Everalbum delivers cloud-based storage tool that makes presentation of your digital media far less tedious.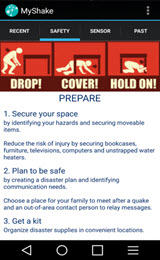 MyShake allows users living with the ever present threat in territories plagued by earthquakes to contribute by acting as an early quake detection system that might just save lives. MyShake, a new app developed by the UC Berkeley Seismological Laboratory uses your smart phones motion sensors to detect the highly distinct vibration patterns that are the precursors to an upcoming quake. Due to the very specific and distinct vibration patterns, running and other daily activities will not set off its alarm bells.
The app requires minimal resources and continuously runs in the background only to activate when detecting the correct vibration patterns whereafter it will send an alert to the team at UC Berkeley. Currently your app serves as an assistive tool in helping to drive the team's research into earthquakes and their early detection, already with in excess of 100,000 downloads. The team hopes to create a blanketing network of mobile earthquake sensors that may be instrumental in detecting future quakes earlier and faster to enable an improved early warning system that may just assist in allowing people enough time to get out of the affected area.
Everalbum performs automatic backups of smart phone media to cloud, additionally adults with the clearing out of on device media in an effort to preserve space. Digital media accumulates on modern mobile devices at an alarming rate, quickly turning digital media's ease-of-use blessing into a curse unless you have the correct assistive app installed. Everalbum is now here on Android to accomplish just such a task after quickly becoming a chart topper on iOS. It not only backs up and curates all user phone footage, it also centralises and stores all forms of imagery that hangs around in the nooks and crannies of smart devices. This includes media found in other cloud and similar service receptacles.