Since Apple relaxed its tight controls over the contents and development of new apps entering their App Store, it has seen a very welcome newfound spurt of growth since it nearly fell to the threat of being left behind the likes of android insofar as content volumes were concerned. Their newfound freedom allowed developers to come up with a whole new slew of never before seen iOS content, which greatly benefited the variety of options available to iPhone and iPad users. The apps forming part of the discussion below clearly benefited from these newfound freedoms as well, it is now up to iOS users to vote with their downloads.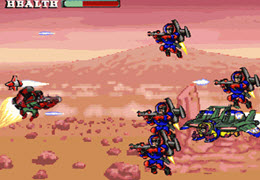 Save Mars is her brand-new fast paced arcade mobile game that challenges layers to disintegrate rockets and asteroids threatening the destruction of Mars. This new gaming skills test require players to speedily identify the wheat from the chaff before blowing up any new threats to the planet, with the ultimate goal being to finally save the possibly doomed red planet from utter destruction. A variety of objects will come flying planet wards where they will need to be blown up while still in trajectory, with blue asteroids destroyed by just a single tap, while the tougher rockets require a double tap before being taken out. The trick comes in avoiding the automatic reaction of unwittingly destroying any red asteroids since they are part of the good guys and destroying them comes at a stiff penalty. Top your previous best scores before Mars gets destroyed again.
Kung Fu Panda: Battle of Destiny saw its release on iOS yesterday just before the premiere of DreamWorks Animation's much anticipated Kung Fu Panda 3 on 29 January 2016. Battle of Destiny offers players a shot at a card-based battle game that includes all the characters of the highly popular computer animated series of comedy filled martial arts forms that sees the bumbling Kung Fu Panda that defeat his enemies in a variety of methods that induce newfound sidesplitting comedy sequences by the minute.