Hopefully this Christmas after all the excitement of the festivities have calmed down this year we will all have some time off to relax and recuperate from the frenetic pace of life in the run-up to, and during the festivities. Some of us enjoy spending this time to catch up on a bit of leisure reading that they might not have time for in our busy schedules during the year; the two apps reviewed below both provide brilliant alternatives to the well-known reader apps such as Kindle.
Aldiko may be one of the lesser-known readers that you might not have given a try as yet, however it is super customisable and easily accessible as part of the package it also offers a fantastic e-book store. The app offers a simplistic design that immediately and quickly offers you their bookshelf containing a treasure trove of free content; it certainly is a worthwhile alternative app simply because it transforms any half-decent smart phone into a highly competent e-reader without costing its users a single penny.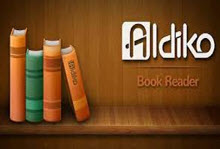 Most importantly, the app supports all major e-book file types, PDF, ePub, and Adobe's DRM encrypted book types. Aldiko truly earns its colours with any book type delivered with zero encryption, such as classic books that are currently sans copyright restrictions like Pride and Prejudice and Sherlock Holmes et cetera. Part of its greatness is that it allows users to pull their e-books from anywhere on their Android devices and start reading instantaneously, even from cloud storage sites that includes Google Drive, Dropbox, One Drive, and numerous others.
Aldiko offers it users complete control of how they read the e-books, they can customise just about any setting to suit their personal preferences, including font types, font sizes, font colours, background colours, type direction, brightness, spacing, margins, and a number of others. Users unable to find a comfy reading interface within all of Aldiko's customisability will in all probability not be able to read with any measure of comfort on any electronic device.
Goodreads offers its users an excellent reference point for book recommendations. Anyone in the market for honest opinions on just about any book they may wish to read, or even share their own personal opinions on a specific title will find this app most useful. It taps into the world's biggest social network for on-line readers, where they will be able to read reviews in excess of 12 million books contributed by its over 35 million members. Members will be able to build a personal virtual bookshelf on books they have read and continuously bold there to read list as they discover new great books offered by reviews within the app.