In order to get all android users into a festive Christmas spirit, developers have delivered a multitude of new and existing improved apps to the shelves in the Google's Play Store. All of the apps discussed below represent the best of their kind to hopefully make your Christmas experience a bit more immersive as far as your smart phone is concerned.
Christmas Snow is an app offering a winter wonderland of wallpapers displayed in brilliant high definition graphics that users will absolutely fall in love with. It comes compatible with all of the latest display resolutions to provide android users with a device that is perfectly suited in looks to enhance the atmosphere this holiday season. Users may choose from a multitude of wallpapers that displays images of centre in the background with a typical snowman built in the front of the house and numerous similarly themed alternative images to choose from.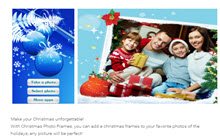 Christmas Songs delivers an app that will allow its users to not flounder around having to mine any words when joining in the singing of carols this Christmas. The app delivers song lyrics combined with graphical support to all existing Christmas songs. Users will enjoy a feature allowing them to set any featured Christmas songs as their smart phone's default ringtone. Users will also enjoy the fact that the app requires no Internet connection while delivering full functionality. The app delivers the lyrics full monty to songs such as We Wish You a Merry Christmas, Silent Night, The 12 Days of Christmas, Jingle Bells, Deck the Halls, Go Tell It on the Mountain, The First Noel, We Three Kings, I Heard Bells on Christmas Day, as well as O Holy Night.
Christmas Photo Frames provides it users with the perfect completing touches to their Christmas photos. Users can choose from a large variety of photo frames that includes options such as a Christmas tree frame, a Star frame to name but two of the multitude available within the app. The app allows its users to edit their pictures for of perfect fit into whichever frame they might choose, as well as three individual photo effects filters to apply to images including options like Black and White or Sepia. The app also offers users the option of sharing them instantaneously with friends and family via social media websites such as Instagram, Facebook, or Twitter.