Launchers represent one of the million ways in which Android users are able to customise their personal experience on any Android smart device, either tablets or phones to the own personal liking, both visually as well as functionally. There are always the most obvious, but superficial items such as customised screen transitions, changed fonts, redesigned icons. However, great Android launchers provide their users with the ability to tweak and tune a device's behaviour to accommodate the demands their personal require from a personal assistant/smart phone.
The only caveat being that players must be willing to invest a bit of time and effort to define this specific required customisations. Users can choose to create screens as complicated or simplified as they wish, by tweaking and tuning each tiny available detail, alternatively or just continue using the default settings the launcher arrived with. Each launcher provides its users with refreshing new look to their cell phones, which is perfect for those desiring a change of pace and face to to their tired old smartphone.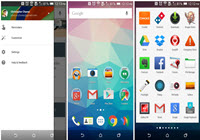 The launcher discussed below is one of the best currently in the market.
Google's Now launcher represents one of the most obvious choices for any user desiring a clean, pure Android experience. The app supplied directly by Google themselves and represents the original in all things Android, it also arrives pre-installed on all Nexus smart devices. This launcher allows its users to rid themselves instantly of all preloaded manufacturer bloatware that arrived with their devices, and all achieved in just one clean easy install.
This purist form of the Android OS allows for quick, clean transitions with no bloatware and unnecessary interface tweaks coming between the user and their widgets and apps. One of its neat features is the Google Now screen that appears on the far left, Google Now delivers incredible user-friendliness and versatility via its customisable viewer cards that refreshes and re-populates itself based on your location and time of day as well as general browsing behaviour. It will also perform numerous hands-free okay Google commands. This launcher represents a sleek clean experience without the massive customisability available in other launchers.