In early September this year a Samsung employee demonstrated the yet to be launched Samsung Pay service, which is aimed at delivering a user-friendly mobile payment system at a retailer in Seoul South Korea. This is in the meantime and with bated breath of Android audiences worldwide have now finally come to full fruition after it became available in the Google Play Store earlier this week, unfortunately is currently still just available on just a few smart phones.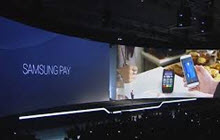 This mobile payment dark magic also going by the name Samsung Pay is currently already available in all its fully functional glory to Samsung's own mobile devices that include the Galaxy S6, S6 Edge+, S6 Edge, or even a Note 5. So owners of the above devices are itchy to get their first hands on Samsung Pay mobile experience can handed over to the Play store right now and grab the new Pay App which its subscribers will be able to use at any conceivable electronic payment terminal.
This app unlike Android Pay which is severely limited in its use to NFC enabled electronic terminals, applies Magnetic Secure Transmission or MST that employs an electromagnetic coil placed just inside the back cover of the device in order to emulate the magnetic strip found on the back of any physical card. Android users choosing to utilise the benefits of the Samsung Pay app should in the beginning not be too surprised if store clerks should a few awkward glances at you when you first attempt payment via your phone. In addition the Samsung Pay App is also fully compatible to NFC enabled electronic terminals which are essential to process Android Pay transactions.
Samsung in its quest to put its personal stamp on all its software action like its insistence on providing the standard android OS with its own TouchWiz personal stamp of customisation as well as having a finger in the pie with services that include its own Galaxy Apps and Milk Music. In its quest for world dominance Samsung Pay will be another tool strengthening Samsung's brand armour, but it certainly could be set for a long hard road competing against the likes of android pay. This is especially so since numerous large banking institutions as well as Google themselves by heavily promoting the Android Pay app pretty vigorously, which has an advantage in that the Google option will work on just about any Android based smart phone sporting and NFC chip.