Both the below apps should never be considered a trivial matter since both have achieved global fame and recognition in the popularity stakes since the initial inception with the one finally entering the mobile industry, hopefully with a bang of success. The other app is an oldie but known to be one of the best of its kind that have now received a much-needed interface revamp to modernise its look and keep it contemporary, while adding a few new innovative features.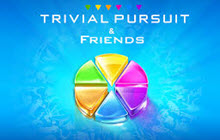 The first app is the age-old family game now a newby in the mobile market, Trivial Pursuit, and a singularly successful social trivia quiz game, that is now at last making its entry into the mobile arena by newly introducing us once again to company's latest baby dubbed Trivial Pursuit & Friends. The focus of the game remains on having fun by testing your general knowledge in a contest of to and fro questions against like-minded competitors hailing from all corners of the globe. Contestants clash in head-to-head general knowledge and specialised field trivia matches encompassing an expansive range of categories. With gameplay engaged in via two modes Blitz and Duel, with Duel pitting two opponents in competition with one another, while attempting to survive the required six rounds. Blitz represents group matches played at speed that engages up to three players in quick test match rounds. Players on the winning end of matches will unlock additional power ups that include benefits such as re-spins, other player tips, as well as extra time.
The second app reliably provides tons of us with the quickest possible way home through traffic on a daily basis and has helped countless numbers of travellers to find their way around unknown country sides and cities. Now the gurus introduced a newly revamped Waze iOS app earlier in the week with the promise of an Android release in the near future. The latest update is focused around in the ease-of-use enabling its users to find required destinations easier and quicker via their contacts, locations history while accurately providing ETAs via improved algorithms to account for traffic flow and hold-ups allowing its users to be in time for the next important appointment every time.