Genii an innovative online gaming provider recently released Spin 16, their new slots product line. Other than hugely improved graphics, smooth game-play and stereo sound capabilities, very little has changed in the way players interact with on-line slots in since its inception as a highly popular, lucrative form of internet entertainment. Genie intends to stand the on-line entertainment industry on its ear by revolutionising the way players interact with their slots during game-play, by offering ground-breaking alternatives in player interactions with their slots.
For the first time in slots history players could affect much greater freedom of control and vastly differing ways of interacting with reel spins, their solution encourages slots enthusiasts to accept new kinds of gambling freedom, taking increased of control of your fun. Forget the tired old non-interactive spin button, players can now interact directly with each of the reels, deciding which reel should be spun and in what direction it should be spun, a much better option that continuously jabbing away at the single old spin button.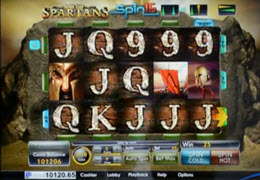 The company hopes that their patented technology would bring about a revolution to video slots experiences for all players partaking in on-line slots entertainment, initially aimed at the smart mobile touchscreen devices. The new concept brings no complicated player controls to the screens, just simple swipe actions, right & left, up & down determine which way the reels spin, even providing the capacity to spin individual reels, opening up a whole slew of new ways for special bonus actions and new special bonus features.
According to the Sales Director, the new gaming titles remain very much like current video slot interfaces, retaining enough of their similarity to current recognized formats to ensure easy player transitions, yet it still feels new and improved. Offering multi-directional spins, and their new feature hot & cold spins, made possible by the new technology that interacts with other on-line player successes to determine hot & cold directions for spins. There is also a second phase match game that results in multiplier bonuses on any pay-line wins for their house pick feature, adding loads more excitement to every spin.