East Bay Fortune is the latest release from the development team at Fantasy Factory, built to explore the extravagant lifestyles of San Francisco's wealthy and fortuitous crowd, delivering a provocative view of the indulgence. With all the slot symbols and atmosphere created from luxury items that complete the lives of the rich and famous.
Odobo and creators Fantasy Factory finally decided it was time to collaborate, with this slot as a starting point to featuring their software titles on the Odobo marketplace for distribution. It is a 5 reel 25-payline featuring the Golden Gate bridge as a backdrop to the reel-set, presenting players with luxurious items to complete the reels special symbols, these are depicted by Luxury Yachts, cash, jewelled pens and watches, diamond rings, and champagne. The special bonus features offer a Rolls Royce Phantom to depict the game scatter, free spins are activated when three or more scatters show anywhere on the reels.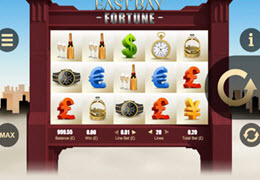 Riaan du Randt, Fantasy Factory CEO said East Bay Fortune is focused on the flamboyant lives of the San Francisco rich. Their company used the Odobo Developers Program to be able to offer the slot game to players in regulated area via their Odobo distribution partner and the company was elated that they could service players on mobile & desktop via a single client build, and also to be included on the native Odobo play market app. They were also expectantly anticipating building more slots via Odobo.
Glen Bullen, Partner Success Manager at Odobo, said Fantasy Factory delivered a simple, refined, exciting slot showing responsive design essentials. Also stating they were a gifted design studio that turned the first game over in few short months. Their game proposes entry to a luxury world with money in excess, where persons lives to absolute excess, feeling exactly like entering any Las Vegas casino, just from your own house's comfort, on smart mobile while on the move.