Each day before Christmas we will give away a promo code of an iOS game (apps in giveaway listed below) to two of the contest entrants. We will contact you through the method of contact from which you entered and deliver the promo code into your hands.
If you have won a code you still have a chance to win more throughout the Countdown.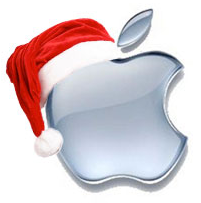 You can enter in three different ways:
Tweeting about the site or the contest. Include our account name in your tweet (@TheAppShack) 
Sample Tweet- I just entered the Countdown to Christmas Promocode Giveaway from @TheAppShack!!! Enter here: http://bit.ly/thqZWe
Liking us on Facebook. (Email us with the name you liked us under)
Emailing us at TheAppShack@gmail.com with suggestions and tips for the giveaway or the site in general.
Be sure to follow our Twitter account to stay up to date on what apps are included in the giveaway and who won the latest contest.
Promo Codes you could win:
EPOCH. (2 codes) Universal
Phoenix(1 codes) iPhone only
M.U.S.E (1 code)
More apps will be added to the contest shortly
We thank our sponsors that have generously donated their codes to this awesome contest.
No more Shadowgun codes are available!
Stay tuned for future contests from us, two of them are currently in the works!