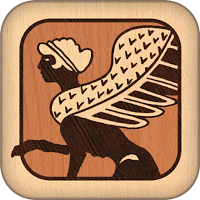 Get ready iPad owners for tons of puzzling fun in 
Gua-Le-Ni, or: The Horrendous Parade.
This new iPad puzzle game comes from Stefano Gualeni and Double Jump. You'll be able to get your hands on it very soon with it's release date for November 28, 2011 (NOW AVAILABLE! CLICK HERE TO DOWNLOAD IT). The main objective in this game is to categorize beasts who are combinations of different types of animals. It's actually a very intriguing game. The beast walks across the screen, one at a time. The only way to successfully categorize the beast is to use the cubes at the bottom of the screen before the beast walks to the other side of the screen out of view. Let's say your beast is a mixture of a rhino and a condor (the rhino body part is first and the condor body part is second). This means that you'll have to arrange the cubes to read rhi-dor. You can spin the cube around with one finger. If you have the cubes in the wrong order or if it's upside down, then you can use two fingers to lift or rotate the cube. You can also add more cubes (which means more of the beast) for an even greater challenge. As you progress, food becomes a factor. If a beast is hungry then it'll move faster. This is where you have to feed it a certain item for it to slow down. This is a really interesting game. It'll certainly have your brain thinking (which is always a good thing). If you're a little confused about the game then you can view the trailer directly below.
My overall rating for this game is 4.5 out of 5 stars. The interface in this game is very well-done, the visuals are nice, and rotating/spinning the cubes is extremely responsive. My only thing is that starting up the game is a little slow, since the game sort of acts like a book. Remember that this is an iPad only app and it'll be available November 28th. You can pick it up for $4.99.
NOW AVAILABLE FOR $4.99