The skateboarding genre is relatively untapped in the App Store. Games like Skater Nation and Skate It shined in their day, but they have since grown old and stale. A new open-world skateboard game from Ratrod Studio has just landed on iTunes and it plays like a blast from the past.
Controls are the selling point for this game. In most games, controls are what make or break the bank, and in Mike V: Skateboard party they nailed it. A joystick controls movement while 4 buttons are arranged in an orbital fashion to pull of jumps, grinds and almost any trick imaginable. Just about everything about the controls can be adjusted, from the size of the buttons to their placement. While the controls are smooth, the player movement is a bit clunky. When you start moving, there will be a bit of a lurch and then you will zoom off. But this doesn't detract from the whole experience.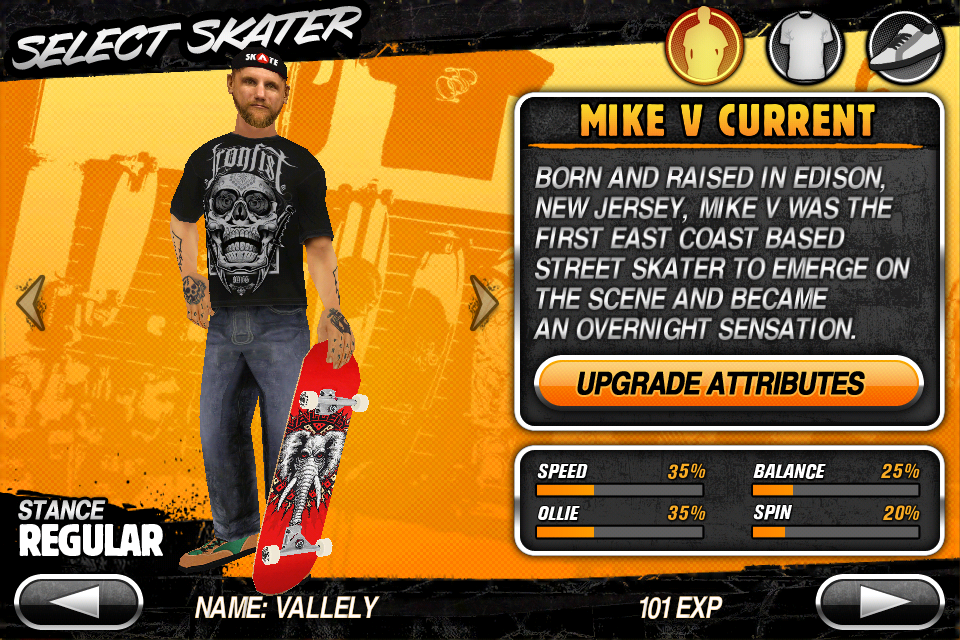 Another area that shines in this game is customization. From, looks, to shoes, to boards wheels and trucks, nearly everything about your player can be customized. Even better, almost everything that you change, from trucks to shoes, will affect how you play the game. This alone earns Ratrod Studio a big round of applause because no other mobile skateboarding game has really gone this deep.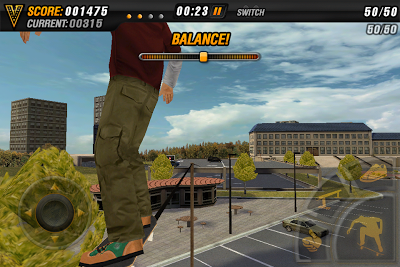 In terms of variety of gameplay, Ratrod Studio has done a marvelous job as well.  Any open-world skateboarding game, no matter how great it looks or plays, will bore gamers to death if all you do is ride around in one area with absolutely no goal.  This game excels here in that you have 5 "massive" locations to choose from  along with three game modes, Career, Versus Multiplayer, and Free Ride. The locations are all fairly expansive and although devoid of life, there are plenty of obstacles and ramps to jump over, ride around, grind on, or ram into.  Different themes like the dark indoor skatepark or junkyard and the more pleasant, open community center shake up the mood of the game and add the overall console-like experience. In Career mode, you will play to gain experience and upgrade your character.  Upgrades range from speed and balance to spin, and leveling up these traits will help you dominate in multiplayer. In the Versus Multiplayer mode, you compete against one other player and see who can rack up the most points. Share your scores and domination via built-in Twitter and Facebook integration.  This is a pretty big addition to the other two game modes, and the social aspect gives the game a competitive edge. Free Ride speaks for itself. Just pick a location, and practice your tricks.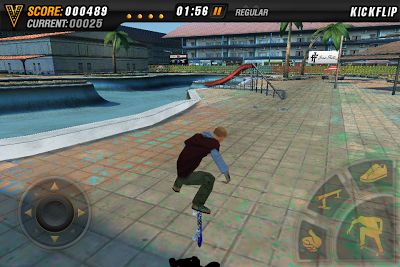 From the standpoint of someone who has played almost every console Tony Hawk game along with all of the iPhone skateboarding games like Skater Nation, Skate It, Mike V: Do or Die, TouchGrind etc., Skateboard Party is a near console-like experience. Although graphic quality needed to be compromised a bit to support lower-end devices, they still look better than the older skateboarding games. Also, with all of the features that are included in the game, it is amazing that this is an iOS game. Definitely join the party and see what all the buzz is about. Mike V: Skateboard Party is selling at a mere $1.99.