With the recent launches of the latest generation of top end android based cell phones such as the Samsung's Galaxy S7 & S7 Edge and LG's G5, there are loads of exciting new, screamingly fast android devices to choose from at the moment. However, users don't necessarily need the latest and greatest in mobile hardware to enjoy some useful, fun new top end apps, such as those discussed below.
UberEats is a top grade freemium app offering a wide variety of always-ready meals on Instant Delivery via a multitude of vehicles running around numerous major cities at any time. Currently the company is diverting some of its massive fleet of ridesharing vehicles to an alternative task, to deliver food to clients, ordered from local restaurants. Uber's latest app just reached the Google Play Store and it currently offers users residing in Chicago, San Francisco, Houston, Los Angeles, as well as Toronto food delivery in a hurry, with additional cities soon joining the list of serviced areas.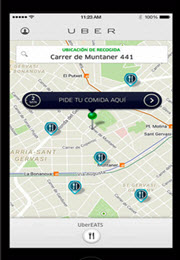 The next cities in line seem to be Seattle and New York. The company is giving their new service the maximum opportunity of success by featuring selected restaurants that continuously offer daily specials the pre-prepared to serve during the lunchtime hours and Uber can deliver these in just 10 minutes. UberEats clients are free to order from a much broader menu incorporating in excess of 100 food joints in each of its covered cities; however, these meals will expectedly take a little longer for delivery since the not pre-prepared. In addition, UberEats users can track their meal via its current real-time mapping, following their meal on its delivery route to their tummy.
ProtonMail, allows its users to speedily sort through their inbox with taps and swipes, with one of its main features the high security offered during daily communications. Especially so in the wake of Apple's successful stand against an intrusive FBI, which kept the private sector's encryption privacy debate in the news spotlight for the past couple of weeks. Currently this secure mail service has in excess of 1 million subscribers around the globe, and it just saw its Android app released earlier this week.