Transferring files across a cellular Internet connection can be a frustrating, long and tedious task, while direct connections in contrast present a far speedier solution, but becomes a nightmare filled with incompatibility issues between two differently branded devices.
Users can certainly tap two iPhones or Samsungs together to share and HD video; however, try sharing large files to PCs, laptops, or even between Samsung and LG phones. This is where leading PC vendor Lenovo's free SHAREit app enters the picture, it allows users to send and receive files between all iOS, Android, Mac OS, or Windows devices close enough to link via Wi-Fi direct.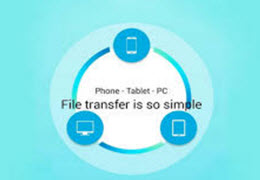 The SHAREit app even transfers multiple files to an entire group of friends, forming equally well between any device able to install this incredibly handy little tool. SHAREit forms part of Lenovo's newly promoted suite of DoIT applications. The range also includes other handy tools such as SYNCIt that performs backups of phone contacts and personal data, SECUREIt to keep user phones virus free, with two paid camera functions called SEEIt and SNAPIt, CLONEIt provides an easy and convenient method to move from your old phone into a brand-new phone.
Android users can install and use all non-camera apps for free, but SHAREit elevates itself head-and-shoulders above the rest my delivering a formal comprehensive and compelling Wi-Fi direct sharing solution than any other app offering similar functionality. The app shares all types of data files at roughly 200 times maximum Bluetooth speed without requiring USB connections or using expensive mobile data.
SHAREit has to date seen in excess of 400 million downloads from users in 200 countries and world regions, and has been tested to be the fastest of its kind worldwide. The app provides a simple and easy cross-platform file transfer solution requiring just a tiny footprint on any user's device. Anybody that regularly shares files between devices or even just to your own PC or laptop quickly find this little app absolutely indispensable and incredibly quick, with near zero failure to send or receive errors.