Apps form the cornerstone of any mobile platform; however, Apple has with its iOS distinguished itself, since it is this protected ecosystem more than any other factor that sets it apart from all of its rivals to the highest quality product, with its apps typically rated as best in class.
The task of finding the best apps amongst this dizzying variety of high quality products actually makes it even more difficult to distinguish a truly great app from amongst a horde of good quality apps that failed to distinguish themselves. The apps discussed below is an attempt at alleviating the situation.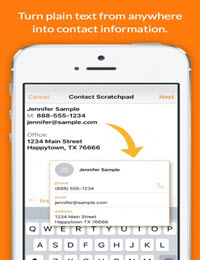 Interact is a newfound solution to the native Contacts app found on Apple mobile devices, Interact delivers numerous features not offered on the native iOS software. For example, the native app does not allow users to delete or create complete groups while Interact does so with aplomb. In addition to its capability to manage multiple contacts simultaneously, its users can create and send grouped emails or messages from within any of the native iOS apps and still enjoy the benefit of its capacity to attach files, images, video clips, and more. Interact even offers a cool Scratchpad use while updating and creating contacts by copying text found in web pages, email signatures, and other applications. As an added boon to iPhone 6S owners it offers universal control with full 3-D touch support, so it's a snap at $4.99 from the iStore.
With currencies fluctuating due to a lot of codswallop normally served up by politicians it is nice to know that the creators of Nanu think of our gaming budgets by providing an app that delivers truly free calling. Nanu are determined to make good on their promise of free calls everywhere to everyone with their latest update released on version 2.1 of their app it even includes users stuck with an old 2G network. The new version delivers a brand-new GUI, an add contact feature, as well as improved call quality and the delivers its services to 48 different nations, with 20 of those nations supporting free calling between mobile phones. As one would expect Nanu says there are no restrictions on any calls made between two of its app users, this should inspire its users to spread the good word as fast as possible.