Every so often we all need just a tad of good skill testing action to relieve the boredom while waiting for an appointment or as a welcome entertaining time filler during our daily commutes, this game will hit the spot every time to fulfil that need.
Rayman Fiesta Run game is a normally paid for app, however it is currently offered for free in the Apple iStore until 12 November 2015. Players will enjoy this tremendously entertaining mobile game that requires them to play and party through numerous kooky landscapes. This new Fiesta Run delivers yet another classic entry to add into the venerable Rayman range of games, the new version offers a playing style very similar to its predecessor Rayman Jungle Run. In this latest chapter of the range, the Rayman must once again be guided across colourful levels to overcome numerous zany obstacles. Gameplay is fairly long with over 75 brand-new levels to conquer and run through before you are welcomed at the Fiesta.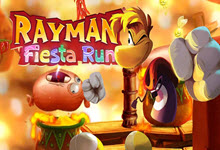 Rayman will this time be bouncing along on sausages while making his way across its four entirely new festivity bedecked worlds, before reaching the end of play he will also need to defeat all three of the epic new bosses in order to find his way to the fearful Land of the Livid Dead Island. In order to overcome the challenges and level bosses players will be needing to collect Lums in order to receive incredible rewards as well as the badly needed power ups.
To perform all these tasks so he may reach his goal players will this time be required to make him fly, run up walls, jump, as well as punch, you will receive further assistance from his newfound abilities to swim, slide, or even shrink on the move into a diminutive hero, with his ultimate weapon being your ability to unleash the strength of his Super Punch.
All players that is and I need of a bit of platforming action must make sure they download the app while it still free from the Apple iStore before 12 November, where-after it will return to being a fully paid app.