KEMCO's latest Humble Mobile Bundle has just been released to the great joy of all RPG enthusiasts in the Android world, their latest bundle makes six extremely popular top end RPG titles available from the highly regarded Japan based video game developer.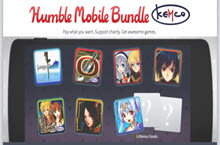 Players will be able to pick up these six premier RPGs for the extremely low price of $1 which comprises a massive savings when compared to the normal price of $72 that includes in game content, however from today players will be able to collect them all for just a couple of bucks.A one dollar donation will score players the first three games namely; Eclipse of Illusion, Eve of the Genesis in HD, as well as Symphony of the Origin. Any players that requires access to the further three games making up the balance of the six will need to do better than the average price which currently hovers in the region of $5.64.
The next three titles that will then be made accessible to players are titled; Fortuna Magus, Legend of Ixtona, as well as Silver Nornir. The range of titles available in the Humble Bundle would normally be expanded upon in the following week when the team adds an additional number of extra titles to the bundle, however the current bundle offers additional games that can be unlocked after the players accumulated donation value surpasses $100k, $150k and finally $200k.
The next exciting title to be unlocked after players surpassed the $100k point will be Knight of the Earthends, players will continually need to keep checking on the last two title releases, since the next two games thereafter have not yet been revealed. One of the neatest features of this bundle is that players are offered the option of donating the proceeds of the game bundle to a charity of their choice such as the American Red Cross or any other supported participating charity they may choose.