Over two years have passed since its initial launch on Android, and Google has finally deigned to bring its brilliant note making and taking app called Keep to iOS. This latest re-platforming of the app should give iPhone users good reason to rejoice, since one of iOS users ongoing frustrations when supporting Google's services on their devices is the tremendous lack of urgency with which the search engine giant brings its latest tools to the iOS.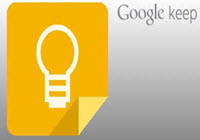 The strategy speaks of good logic on Google's part to assist the company in its goal of achieving primacy in the competitive mobile market, providing iOS users with the latest and best versions of their own in-house developed operating system apps could potentially provide Apple as a company with a Google created marketing advantage, which, while good news for Google is generally terrible news to strictly iOS supporters.
Keep was designed to pool and store all the various bits of information users pool from all over the web into one currently existing central app controlled data base, which offers users an easy to manipulate intuitive interface of recognisably "Post-It"-like notes. The sticky notes can be easily recognised by the user through customisable colours, where the note has the capacity to carry a variety of data forms such as images, audio files, and checklists.
To later enable users to quickly retrieve an idea or memory they had seen and stored by simply searching through their notes guided by colour, type and context without having to revert to a massive web search. Users can also then share their own Keep notes with other people in order to collaborate on shared tasks and interests. Keep also offers its users customisable notifications that may be location or time based to remind them to collect dry-cleaning, buy groceries, or even remember distant relatives' birthdays. In many aspects offering functionality similar to Microsoft's virtual assistant Cortana that is currently available on Android and its own Windows 10 and what Apple is developing into the iOS's Reminders app and the independent, long time unmatched and brilliant Evernote app.