Since the advent of smart phones the Android platform is elevated itself from an inglorious semi part-time project within Google's ranks to become one of the most prolifically utilized mobile operating systems on the market. Android and its supporting app ecosystem's success has grown in a symbiotic relationship to become an absolute dominant force on the world market.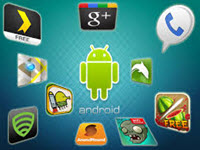 With over 1.6 million apps available on Google Play alone it can be difficult to find the best apps suitable to a user's needs and the following apps are indispensable and represent the best of its kind on Google Play as at current. Any.DO is a productivity assistant to-do list, featuring voice recognition, day planner, missed call notifier, calendar, folder browser, and several other helpful features. Google Keep is an alternative productivity assistant to-do list, offering similar features with an incredibly simple easy-to-use interface. As a third option Wunderlist is also packed with great to do list with similar assistive features. Users can be assured any one of the three options would be a purely personal choice as all three offer wonderful functionality.
Boomerang inbox for Gmail will become a firm favourite for handling your emails on mobile that offers incredible versatility and useful features such as scheduling of messages, a message snooze function, have a message recur. A second option called Inbox from Google themselves now improved with similar functionality and in addition can pin emails as to dos, tracking options, schedule reservations and several other very useful functions including plugging into your Google account and show Google Now task reminders in app.
Today Calendar is a fully featured calendar application that works easily, offering a simple interface and overcame the difficult task of creating a user friendly phone calendar in the limited screen real estate available. This calendar excels offering a user-friendly split to displaying an overview of the users month in the top of the phone screen and your agenda for that selected day displayed in the bottom half. Several quick actions allow users to make calls, or pull up an address, or even send a quick email with a single tap.
All of the above apps offer features that are about as good as anyone can achieve from any app utilising the limited screen real estate available on a cell phone.