Reel Force 5 is CORE Gaming's just launched, brand new mobile video slot, on the Sky Vegas mobile casino portal. Based on the action packed experiences of five superheroes and the squad's nemesis, the evil Baron Lightfinger. The theme features our intrepid squad of super heroes each gifted with their own distinctive special powers, used to influence reel spins in providing players with larger, more frequently triggered wins. However, evil Baron Lightfinger remains in continual hiding, to pop up in a malicious attempt to steal and keep your slot winnings to himself, but since the bad guy always loses, he is no real match for our brave heroes. Gameplay presents five different bonus plays with players offered a choice of which bonus games they would prefer to engage in. The features range from the free, win every spin style of game mechanics, to yielding just three free spins with the potential to win big.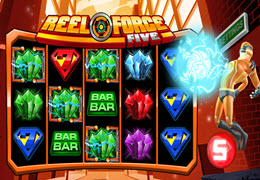 The slot fully created and produced in-house by UK gaming software developer, CORE Gaming in HTML5, is the first in a series of their proprietary slot titles, with three more table and instant win gaming content released in the remainder of the year. These titles form part of a multi-game production deal with casino operator, Sky Vegas, with some titles already live. A series of scratch card titles, Sky Blackjack, Sky Roulette, and Scratch4, scratch card series already released last year, and were shortly after followed by additional titles, 3 Card Brag and Video Poker in early 2015.
This entire range of gaming titles boasts as the first project of their kind industry-wide, developed from single HTML5 source-code to deploy on mobile and desktop platforms simultaneously, to become commercially available later this year. At completion of the project this content could establish them as, the top HTML5 developer globally and as one of the gaming industry's major content providers.