Odobo Play, a game discovery app currently available for iOS to assist players in finding their favourite gaming titles and its related casinos offering real money wagering. Launched during December 2014, the Odobo Play app enjoyed over 45,000 download and installs placing the app in second position for casino apps on Apple's UK iStore.
It is also the first app offering both a real-money and a social casino accessible from one single mobile application. These new multiple access options enable users to open one account that can save their progress across a variety of different devices, thereby providing much quicker earnings of casino credit bonuses. Players now also enjoy the benefits of an option to increase their personal social casino account balance in various ways, including collecting combined winnings from all of the more than 50 titles available. This in turn causes more gained bonuses as regular active visitors, as well as purchasing additional credit packs via its new option offering in-app purchases.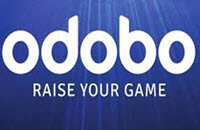 Odobo Play's social casino uses existing real-money options that come already integrated with this app to create seamless game play, with the aim of providing real-money casino excitement and content irrespective of its user's play preferences, whether playing featured titles free, or using added credits for real-money wagering.
The featured titles arrive in innovative formats making game-play easy to learn at the social casino, with the app easily matching the required industry standards when transacting to real money plays. Odobo receives additional funds due to the app's social casino, thereby monetising incoming app traffic not normally converted to real-money wagers. This app enables bettors to enjoy the full excitement of its diverse gaming content only made available by additionally awarded winning bonuses and gaming credits.
Odobo Play's social casino remains accessible in all territories to all players via its iOS app, just as a further benefit adding to the multitude of other advantages available to the 45'000 users of their amazing app.