NextGen's new branded slot Psycho, made in collaboration with Universal Studios will be available for play at casinos offering NextGen products this May. The theme derived its motivation from one of the highly lauded works of Alfred Hitchcock. The 1960's celluloid suspense called Psycho, Alfred was at the time a celebrated film director by now already regarded as the foremost suspense movie director the US had to offer. Anthony Perkins, then a young lad performed a masterful portrayal of Norman Bates, the central character.
The Psycho video slot release date was delayed after NextGen made a difficult call to delay the release from its initial April launch till this month to enable a simultaneous release on mobile and desktop. It's a suspense-horror with 5reels and 25 paylines that has the same scare factor as its celluloid parent, that I wholeheartedly trust will have a similar impact on on-line gaming as Alfred Hitchcock's masterpiece.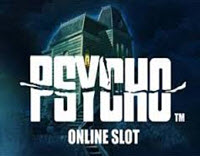 Game-play offers an equalised combination of superbly reproduced animations and graphics, blended with the frightening soundtrack, a video clip featuring the 1960's film original starts off setting the atmosphere even before the reels had a single spin.
The scene, as in the film is set in the desolate Bates motel, after a newly built highway cause a detour that took traffic miles away from the old motel. The Bates Motel's owners lurks a mysterious house occupying a hilltop behind the rundown Bates motel. Norman the young Bates boy murders the only motel occupant, a shyster woman that stole $40,000 from her mobster boss before making a run out of town, in the shower. A suspenseful twisted plot starts on this note gathering sinister momentum to the bloody end.
The plastic shower curtain where Norman initially killed the woman serves as the backdrop to a 5reel 25 pay-line reel-set with Haunted House scatters and Psycho Wilds, with wilds responsible for an up to x20 multiplier.