Last February, in collaboration with Woblyware, Ravenous
Games ported over what came to be known as one of the best action platformers
on the App Store. This game is a perfect blend of speed-running, wall-jumping, head-smashing, and death. This game is League of Evil. Now, a year after the original's iOS debut, Agent is back and more badass than ever.  League of Evil 2 is the sequel to die for, and I can't stop playing it.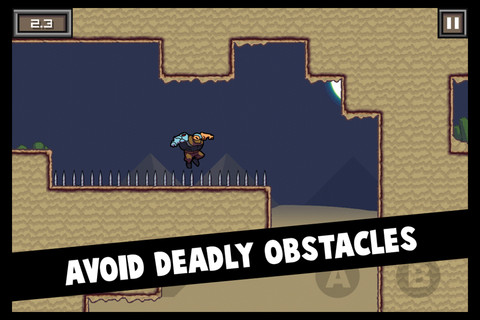 If you have never played League of Evil before, here is the low down.  League of Evil is probably the king of iOS platformer gameplay.  Super-tight controls allow you to pull off the sickest acrobatic moves that you have ever seen.  Double-jump your way across spike pits, dodge bullets, slide down walls, run though laser beams, and most important of all…punch some evil scientists in the head! League of Evil 2 combines all of these things so well that it is just too hard to find any faults in terms of gameplay.  Boss Battles also make an appearance in League of Evil 2 making the gameplay more action packed than ever.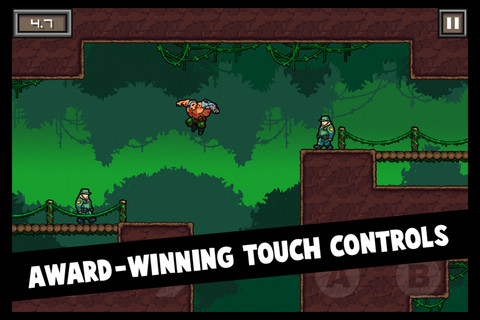 I have always said that controls are the most important aspect of any platformer.  Fortunately, League of Evil has award winning controls to go along with its awesome gameplay.  You shouldn't have any reason to blame League of Evil's controls for the countless deaths that you are sure to experience.  Touch controls on iOS have come a long way since the advent of the App Store, and at the moment I am comfortable saying that the touch controls of League of Evil work better than the computer controls.  The controls are simple enough; you have left and right arrows from running along with jump and attack buttons. This control scheme proved itself in the first League of Evil, and it works just as well, if not better, in the sequel.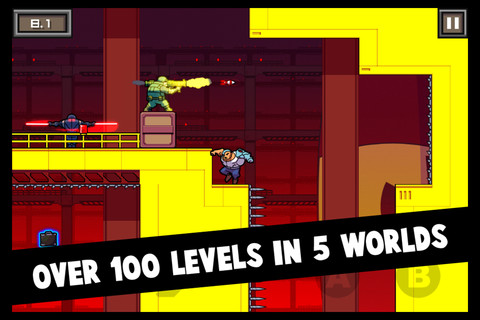 Over 100 levels across 5 different worlds. 100 is a big number, and even though the first batch of levels won't take you long to complete it only gets harder from there. You have multiple goals in each level: kill the scientist, beat the goal time, and collect the briefcase. It isn't too difficult to do just one task at a time, but to get a "perfect run" you need to accomplish all of the tasks in the same run. These challenges will cause much hair loss, but they definitely keep you coming back for more.  As you progress through each of the 5 environments, you unlock a matching costume.  The new outfits for Agent not only switch up the game's style but also allow you to customize to your liking.  Also, the addition of boss battles switches up the game play a bit, forcing you to focus on the action rather than the platforming.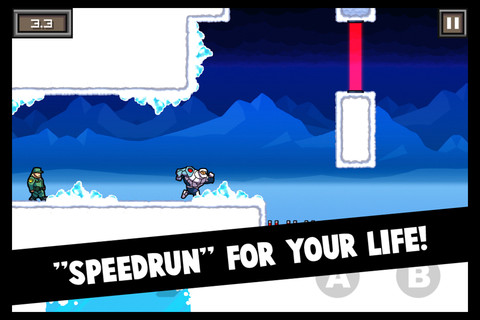 I don't even know what to say about the graphics. The move from pixel art to 'super-crisp 2D glory' might have lost Ravenous Games a few fans, but I'm sure it gained them a hell of a lot more.  I am a huge pixel art fan, but I am in love with the new League of Evil art. Definitely a big standing ovation to BulletProof Outlaws for taking the time to perfect the artwork.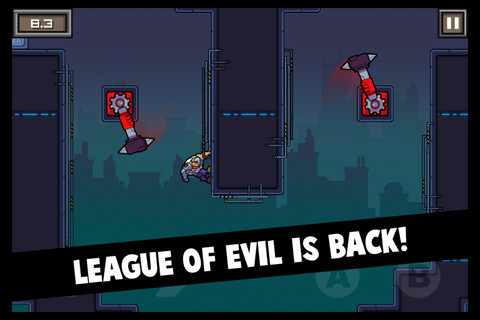 Surprise surprise, our very own Game of the Year from 2011 returns in HD form and it has me hooked once again.  I must say that League of Evil 2 has everything you could ask for from an iOS platformer, and it is difficult to find any faults.  If there is anything to wish for, I can only ask for more levels, more costumes, and maybe control customization (for the picky ones). Oh yeah, and did I mention that there are 2 difficulty settings available? Yes, it just gets better and better. Do yourself a favor and pick up League of Evil 2 while it is still on sale for $0.99. It'll go up to $2.99 soon.
***Some people have run into issues with game saves. I haven't had any yet on iPhone 4

Let's hope Derek gets on it!***