Tweet
Want to win a promo code of Mystery Ball by RedNova Labs? All you have to do is compose a tweet with a link to one of our reviews and the hashtag #appreview   We have two codes and the contest will end on Tuesday the 22nd.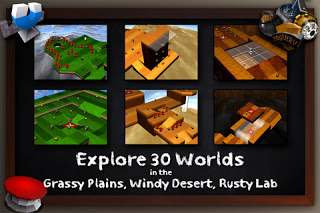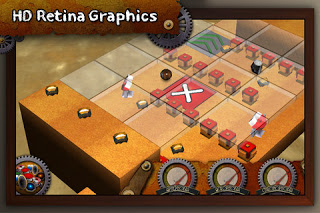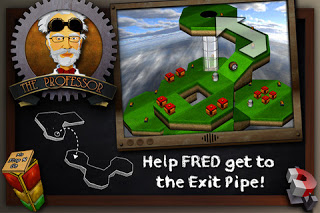 Description:
Help FRED overcome his fears by rolling him through dozens of physics-enabled, fully 3D worlds in his search to uncover the Professor's Mystery in this Grand Experiment! FRED has lost his memory and can't help but remember one thing: he's positively terrified of heights, time and being touched. By collecting Bravery Badges, you can help FRED conquer each of his fears, unlocking his true potential and new abilities. FRED can learn how to fly, be picked up and tossed, and eventually even master the very threads of time!
★ Explore 30 worlds in the Grassy Plains, Windy Desert and Rusty Labs
★ Full Game Center support with 30+ achievements & 17 initial Time Trial leaderboards
★ Conquer FRED's fears to unlock and master his new abilities
★ Avoid scary frenemies like Mr Pail and Mr Thud
★ Uncover unique solutions to physics-based puzzles with Doodads like the Magnet, Bubble Machine, Phase Shifter and many more 
★ Navigate the Clobber Stoppers, Flip Switches, Trap Doors and many other obstacles
Mystery Ball has HD graphics and retina support. Intuitive touch controls make this universal app easy to learn, yet challenging enough to keep you coming back for more. With more than 30 unique achievements that inspire creative thinking and outside-of-the-box solutions, and a Time Trial mode for each of the world's you've completed, there's still plenty more to do once you've finished the Grand Experiment.
****IMPORTANT****
Mystery Ball v1.02 is ONLY compatible with devices iPhone 3GS, iPhone 4, iPhone 4S, iPad, iPad 2, iPod Touch 3rd & 4th generation.
(NOTE: iPod Touch 3rd generation must be 32GB or 64GB – the 8GB model is not a true 3rd generation device). The game now works on devices running iOS 4.0+!
Coming Soon
New fears, doodads and worlds are coming soon, as well as a level editor and sharing community!