I've said many times that Metroidvania is my favorite genre of video games, that includes off-shots, like plat formers that have a lot of exploration involved, or plat formers that require you to collect certain items, and then go back and replay levels, being able to reach different sections of those levels because of your new items. In my mind, they all fall into the same category, Metroidvania. Now, there's only a handful or two of these types of games made for the iOS, but luckily, we can now add one more to that very short list. The Adventures Of Timmy: Run Kitty Run, by CB Labs.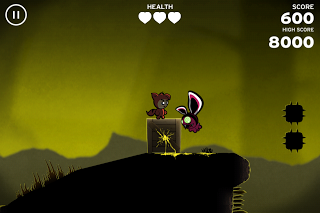 This happens to be CB Labs first iOS release, but for fans of the genre, this doesn't really scare us off. In fact, probably half of the Metroidvania titles for iOS right now are first games by indie developers. But if you are a little hesitant, don't worry, there's no need to be. The Adventures Of Timmy is a very polished, professional, awesome game with great level design, tons to explore, plenty of enemies, and nice controls, which consist of a moving joystick that auto-centers whenever you place your finger down, and a jump button that responds to how long you press your finger down on it. It might sound a little funky, but it works extremely well.
You'll play as Timmy, a shy kid who always wears a cat suit. One day, the prettiest girl in school, Kitty, tries to befriend Timmy. But a big bully gets jealous because he "saw her first", and decides to kidnap Kitty. Fortunately, you've got the courage to go after them.
You'll make your way through 36 levels spread out over 4 different chapters. Each chapter has a different environment, new enemies, bigger levels, and of course, goes up in difficulty as you progress. The graphics are a kind of mesh of silhouette and cartoon styles. Throughout the game, most of the levels floors, trees, and objects are all silhouetted, with the main character, enemies, coins, boxes and backgrounds being in color, and looking like something you'd see on cartoon network. The animations for the main character, enemies, bosses and hazards are all very well executed, and add a ton to the polished feel of it all. The music fit's the game, however, there is only one music track for each chapter. This isn't necessarily a bad thing, but it would be nice if there were maybe two tracks per chapter, switching every level. The effects are all top notch though, from background field noise to blips and pops of goo, and creaking of rope bridges, it all sounds very professional, and adds a ton to the atmosphere.
Chapter One is pretty simple, and the levels are not very impressive. It's almost a straight shot from start to end, and will probably leave you wanting more. But if you push through the first 9 levels, the game really starts to open up, giving you multiple pathways, loads to explore, and sections that will take some skill and wall jumping in order to reach.
Within each level, there are coins and enemies scattered throughout, as well as one picture that you'll need to hunt down in order to find. Sometimes you might just happen to come across it while looking for the exit, and other times, it will take multiple plays of a level, seeing if what's down a hole is another platform, or a quick death. This would give the game a trial and error sort of feeling, which could upset some people, but thankfully, the developers have made it so that Timmy can hold on to, slide down, and jump off of walls. So, you want to see if there's anything down a hole? Run off of the side of the platform, and fall back into the wall, slowly sliding down. Nothing there? Wall jump back up to the top of the platform. Very nicely done.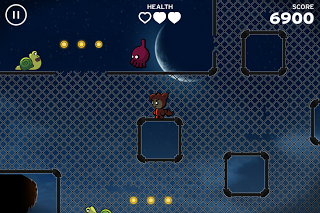 Along with a picture to collect in each of the 36 levels, there's also 3 stars to try and snag. To get these, you will need to usually collect all the coins and kill all the enemies in a level. There are no time limits, so you can feel free to thoroughly explore every little nook and cranny in every level. This does help add to the replay value, as getting all of the stars will take quite a few attempts. There's also GameCenter leader boards for your High-Score, which is a total of your best score in every level of the game, as well as a Total-Score, which combines all your scores, including every score for one level you might end up playing 4 or 5 times. Combined with 30 achievements, there's quite a lot of content to explore, and tons to try and achieve, along with plenty of challenge.
The game is $0.99 right now, but that is the launch price, and should go up to $1.99 very soon. Even at the full price, The Adventures Of Timmy is a game that all plat former fans should check out, especially fans of exploratory plat formers. The graphics, animations, controls, sounds, level design, and gameplay is all extremely professional and very polished. Right now, it's easily one of my favorites of the genre on the iOS.
The Adventures Of Timmy: Run Kitty Run gets a score of 9 out of 10.
Links;
Version Reviewed; V1.0.3
Reviewed On; 4th GEN iPod Touch, iOS 4.3.3