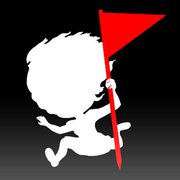 Hello once again, it seems like I am on a roll lately. Today I'm bringing you the game Zombie Minesweeper. You've probably never heard of this combination, and I dont blame you, neither have I… zombies and minesweeping dont match together, but only in our heads, because in the minds of indie developers, Frogtoss, it was very clear, and best of all, that combination is really solid, producing gameplay never seen before. Simply put; brilliant, fun and original. If your thinking that minesweeping isn't your thing, as I was before, don't worry, it's actually very easy to learn. I already can tell you that if you like minesweeper and killing zombies and think it would work well together, stop reading and buy this game now, the link is below the review, but if you dont know how to play the minesweeping part, I can tell you it gives this game a very original twist on the overdone zombie game formula, making it unique in it's own way.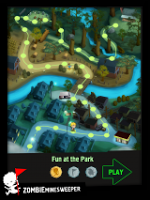 You play as a blonde scared girl who screams all the time and carries a shotgun, along with more things (discover them by yourself, I dare you…) around in an isometric view, in a zombie apocalipse. Lets take a look at the screenshots for a moment. Came back? Lets continue… first, do you like zombies? If the answer is yes, you already impregnated yourself with that true zombie homage the devs did… if not, I can tell you everything is there and represented as a beautiful zombie apocalipse landscape. Any true zombie fan could tell me: "they aren't real zombies, just stuffed zombie animals"… at least its an interesting take on this overdone genre, and it's cute and fun, and better yet, in full Retina Display.

   You control your character by touching anywhere in the field, and our heroine will go there as fast as possible. On the right of the screen you have the flag, just tap it and tap where you want it to go on the screen and your set. Below the flag is a Bomb icon, and it works the same as the flag, and if you have ammo just tap on the zombies to blow them to pieces with your shotgun (I recommend trying to get more of them together to get combos). The game controls are very easy, well implemented and work well in most situations.
The minesweeping part of the game is there for the landmines, to blow zombies away, as the purpose of each level is to reach a detonator and blow up all the mines. As you walk in the field, numbers will appear on it, telling you how many mines are next to it. It ranges from 1 to 4, 1 for 1 mine around it and the bigger the number, the more mines there will be. And you have to plant the flag wherever you think the landmine might be. Remember that you get points at the end of the level for the flag you nailed and loose for the one you missed. You can also walk into a land-mine and die, but actually you never really die, just loose points for you total score and respawn at the beginning of the level, with everything you've done before death the same… so thats okay. This gives value for casual customers that dont want to start from the very beggining of each stage, and for me.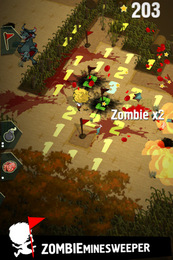 Now the zombies and their part in the game: they are zombies, and like a good zombie, they want to eat you alive, they want your brains. They add a nice pressure to the game, they are slow so it's not frustrating to solve the puzzles while avoiding them. To our behalf, theres *plenty* of shotgun catridges and bombs to deal with all the zombies you will encounter, and they spawn from the floor continually, so expect a real zombie onslaught. Nice touch. There's more than 30 long levels to beat, with lots of minesweeping action, and zombie slaughter, of couse, and in different enviroments all crafted with the same passion. The developers said on a forum that they intend to support the game for some time to come, so expect future updates to the story. Gameplay is really solid and the two subgenres mix perfectly together, having minesweeping puzzles and action at the same time with the right amount of pressure and it's amazingly well done and balaced in Zombie Minesweepers.

   Replayability right now isn't very high, but levels are bigger than I expected, with a lot to do in each of them and increasing difficulty as you go along, so, as it is now, this will take a while to finish -remember future updates. As of now, the game only remembers your highest score ever in the game, but Frogtoss promised new things, including better leaderboards, actually showing the score (and total score, and total medals), and the most wanted feature: Game Center integration, for comparing your score with friends and compete against them.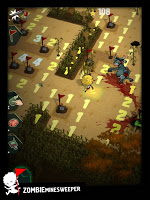 The game does have some minor flaws, like when you are surrounded by a lot of enemies, you try to make your character move to the desired location and instead you waste precious ammo… at least you kill a zombie, and maybe more. Also, this is more a suggestion… there is ammo and bombs around levels for you to collect, nice, but sometimes you find a special gift that consists of a bomb AND a catridge together, but you dont get both at the same time, no, they are constantly switching between them, so fast. I'd like it if the devs made them slower with the switching, so I could take what I wanted. But then, it is the devs choice and they might not want you to choose one. So that's all the issues in it I can find, I searched for something and only found those, and they are not even flaws… just things I would like to see changed.

   I could go on and on telling you nice things about Zombie Minesweeper, but I don't want to, I want you to go to the AppStore and buy this brilliant combination of two great genres fused together, perfect for casual gamers, zombie lovers, minesweeping fans and all  in general looking for their next iOS game. So go and buy it now, you will thank me later. 
   Zombie Minesweeper is based on the web flash version with the same name and authors, and can check it out, but, in comparison to the iPhone game, its feels short and dull. My recommendation is: Buy it straight from the AppStore.
You can check their website at zombieminesweeper.com
You can check these two videos below, the second one is quite funny: