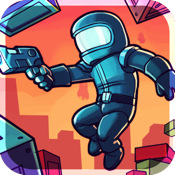 Hello again, this time im here reviewing the game The Blocks Cometh by Canadian indie developer Halfbot. Before I told you about the controversy surrounding the EDGE trademark, and today I bring you something similar. Not long before this game was released on the AppStore, a clone of it appeared. It was indeed a bad game and made some headlines, but it all ended well with the  game being removed by Apple.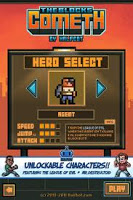 The Blocks Cometh is a endless jumping game, but with a twist, as you climb trough falling crates, so you have to avoid them as well as use them to reach higher. When i first found out about this game, I thought it was going to be uncontrolled chaos, with crates continually falling and you jumping between them while falling at a fast pace, but instead we got a slower game… I'm not saying its bad, actually this game stands above the genre because its original, fun, has a lovely pixel-art artwork and the controls are spot-on. 
   The game comes with 4 modes:
Casual: Perfect for casual gamers, you have 3 lives, making it easier. O

ffers players a less aggressive experience

Arcade: where

hardcore gamers will get challenged to new heights. Also with 3 lives.

Gamebot: And IAP ($0.99) that lets you play is if you were playing in a GameBoy. Visuals and sound have been tweaked to meet the older feel. Its the screenshot on the right. 
   So no matter what kind of player you are, you will find your place in this app. As you can see, its very complete and offers plenty for you to play with. The game modes are all very similar and based on the same premise, but the core concept of the game is so strong, you wont really care about it.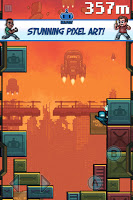 As I said earlier, gameplay consists of climbing while avoiding falling crates, and you have a gun to eliminate crates that left you stuck in the middle (just remember to don't get crushed). I like to get stuck on purpose and then try to get a solution, all this while the screen get filled and the game gains momentum as we get higher and higher. Another good thing about it is that every 100 meters climbed, the game get faster and faster and faster each time you reach new heights. Perfect for both quick and a long sessions to entertain you on the go.
   And again good news, as the game controls are perfect. You can choose between playing with the iPhone in vertical or horizontal posisiton. The fist one is the original and the last one is the best one, as the borders of the screen serves the button better, leaving a bigger viewable screen, and that's always welcome, specially in this type of games. You can also choose between tilting and a dpad.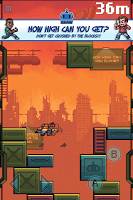 Replayabitity is big, apart from the 3 modes available from the beginning, you have a total of 9 unlockable characters – plus the Gamebot character if you bought the IAP. And they unlock by doing specific things that the games wants you to, like climbing 10,000 meters in total to unlock the League of Evil character (a crossover they did with League of Evil devs, something i would like to see more). All character have different jump, speed and attack stats, so they are different and you can find one that fits you abilities better. Theres one of every jumping taste. Theres also leaderboards, one for each mode displaying your total height, and 32 achievements to collect. As you can see, its very complete and offer plenty for you to play with. I like to compare myself with my friends, this gives the game a healthy competition, as long term appeal. This app has survived every app mas deletion Ive done so far, and it doesn't seem that it will go away any time soon.
   If you are a fan of this endless jumping genre and yet you don't have The Blocks Cometh, i recommending you to add it to your collection: is different and cool, and with the multiple character to unlock, it will keep you entertained for a long time.
Here is a video to get an idea: