Tweet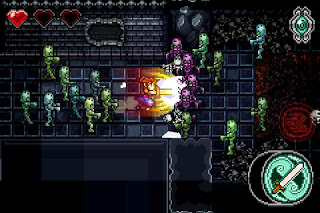 We at the App Shack have always been huge fans of the developers over at Rocketcat Games company because of their previous hook-slingin' games like Hook Champ, Super Quick Hook, and Hook Worlds.  Deciding to branch out from that genre of games they created Mage Gauntlet, an ARPG (Action Role Playing Game) that is built in the image of Secret of Mana.  Read our interview with them here to see what new direction this studio will turn next.
              The backstory of Mage Gauntlet is very deep and intriguing and had me rewatching the cut scenes to make sure I understood it. Basically a great evil known as Hurgoth descends over the land causing pain and suffering.  A wizard named Whitebeard conquers and sends the monster to the bleak Dark Realm.  He and some appointed wizard guardians have been keeping watch on the seal to make sure that it does not get broken open.  It appears that the seal is leaking out energy causing monsters to rise again in the land.  I'll let you find out the rest of the story on your own as it is best experienced without already knowing what's going to happen!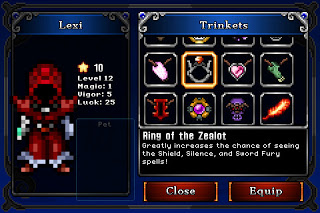 Each section of the game world is split into levels which are seamlessly integrated together much like different areas in Zelda.  After you exit the level you immediately start walking through the next level without having to select it.  You can earn up to 3 stars in a level. If you defeat all the enemies and dont lose any lives you get the perfect three stars for that level.  You can earn a pet by doing so which is an awesome motivating factor.  Also able to be obtained by beating levels are hats. Hats have always been a recurring theme in Rocketcat Games and in Mage Gauntlet there are 110 hats to collect. These hats don't actually boost your stats in any way but are certainly fun to wear and let you customize your character. Pets, Swords, and Robes though, do influence your stats and the possibility of spell drops.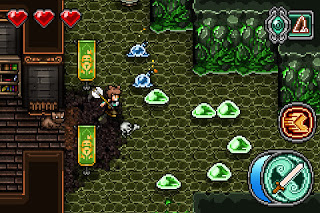 You control Lexi by using one of three control methods which are all very adaptable and easy to use for both iPod and iPad users.  To attack enemies you can quickly tap the attack button for a weak attack and by holding it you can initiate her power attack which stuns all enemies it touches.  Also available are spells which you can get by cracking open magic vases.  The battle system feels much like Secret of Mana's and is quite fast paced as the enemies can get very cunning. Also there are no fetch quests at all so this really does hearken back to the 90's era RPG's.  For added replayability they included a separate mode called Master Mode that puts new secrets and overwhelming monster numbers in the same levels you played before.
        Overall this is refreshing take on the RPG genre and really adds something new to the App Store. With 84 levels, 110 hats, 19 pets, and 86 achievements you'll be playing this gem for a long time.  A update has already been announced which includes a new mode and a new pet.  You really cant go wrong with this purchase and is in my opinion my absolute favorite RPG up to this point. Legit, get it now on launch day before it goes up in price permanently to 2.99. 10/10
Works on iPod, iPhone, and iPad. Requires iOS 3.1.2 or later