Vector graphics are one of my favorite types of graphics you can see in a game.  Though I was not born anywhere near the 80's when they were most popular I still appreciate the beautifully minimalistic design.  Alien Space combines that with a unique blend of dual stick shooters to make this a very intriguing game.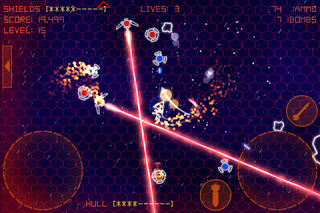 This game is actually the second iteration of another app released by the same developer except with a change of graphics. 
It is not clear what the main story of the game is but thats where you let your imagination think something up. Besides you cant just daydream about the cute girls at your high school 24/7!  The game comes packed with 30 levels and a nice survival mode.  You have the option of buying 4 new weapons and a extra game mode called Lost In Space.  The extra game mode is particuluarly interesting as there or no enemies or weapons and you have a extremely damaged ship that even the slightest collision will cause it to blow up.  You are located in the worst possible place to be with a damaged ship;a asteriod field.  Your energy is constantly depleting causing you to search through the field to find life giving crystals in order to stay alive.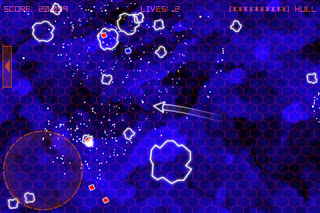 The gameplay is usually fast and frantic and perfectly fits into that 5 minutes of rest time before being bugged by a idiotic coworker. You are always on the move either blasting enemies into smithereens or dodging asteriods when escaping from your opponents.  Asteriods can be broken for credits and health so its always beneficial to try to hit them as well.  The controls are very tight and responsive and dont hinder the gameplay. A feature I especially liked was the fact that you can choose one light weapon(faster firing/light damage) and one heavy weapon(slow firing/heavy damage) before each level.  Currently there are 6 weapons with various levels of upgrades that affect the look of the weapons fire.  In the level you can then choose which one to use and switching between the two of them in mid-battle is a cinch.  Another nifty option is that you can change the games color scheme from the option menu.
Overall this is definitely a steal for only 0.99 and definitely eats up the time that you could be doing something productive with.  Next time you are looking for another quick 0.99 fix this should be on the top of your list.
Link :http://itunes.apple.com/us/app/alien-space/id447275812?mt=8&uo=4