It's an awesome to peel off the plastic on your brand new Android smartphone, but there is not that much going on in the way of apps already loaded. Yet with the number of free apps created for Android, users have an almost endless variety of the best-in-class apps especially created for all Android handsets. The best apps and games for 2016 is part of the over one million apps obtainable from Google Play Store.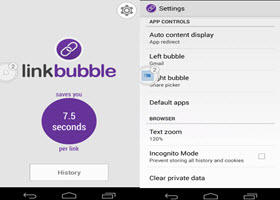 Users who read a lot of news, interesting articles or downloaded books at some point could come across a word they don't know. The Define app provides a way to look up any word simply highlighting the text, press copy to bring up an unobtrusive notification, which can then be pressed to get a definition and usages of the word in question.
Link Bubble Browser was previously a paid-for app, luckily it became a free app recently and made a name for itself largely due to one of the best features, that loads web pages in the background. Instead of clicking through several pages, wasting time while it loads texts or images, Link Bubble presents it only once ready. It also offers quick ways to save or share links and offline viewing is offered with pocket integration.
The letgo app enables mobile users to buy and sell used items available locally on mobile. With the app installed users can find anything they desire including smartphone batteries, cars, electrical appliances, cars and just so much more. With several flea market type apps, available letgo is the most recommended. Letgo catalogues items well to provide users with quick browsing options. Buyers looking for hot items can sort by new items added items. Letgo allows users to view sellers profile to ensure they are reputable. If buyers have a problem with an item they can contact the seller or report them if necessary. Users can block sellers so they don't appear on their item feed. The system is integrated with Facebook, signing up is fast and items can be sold in minutes. Users who are sellers can use the system to build a profile, trusted in the community.