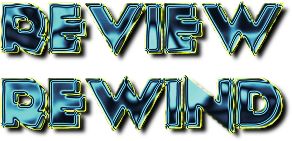 Our second Review Rewind spotlights the great little retro platformer Bloo Kid. Developed by Eiswuxe, Bloo Kid started off as an Android title, but found it's way over to the AppStore, and I, for one, and definitely glad that it did. With a great challenge and 84 levels, it's still a game that can be found on my iPod, and that I occasionally play whenever I've got a couple minutes to spare. The bite-sized levels make for great jump-in-and-play-for-a-minute gameplay, but it still provides enough challenge that you can sit there and all of a sudden realize that a good hour has gone by. Old-school fans, and platformer fans looking for another under-rated gem need look no further. Bloo Kid is where it's at. 
**Note: This review was written after playing Version 1.0.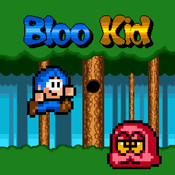 Bloo Kid is the first game for the iOS by Eiswuxe. It's a platformer, soit's a risky first game, but Eiswuxe has pulled it off almost flawlessly. You play as Bloo Kid, who is trying to rescue his girlfriend from the evil Wizard. You're given 60 levels through 5 different worlds. Each level is the size of the screen, so don't expect any side-scrolling goodness. But to avoid clutter, the developer has made it so that enemies spawn in different places of the levels, giving you waves of enemies to defeat before you complete the level. 
In each level, you can get 3 stars. One star for beating the level, another for collecting the star that shows up at the end of the level, and lastly, for making it through the level without taking any damage.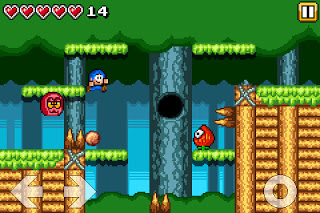 With platformers, controls and physics are huge. If you can't nail those, then your game will pretty much tank. Eiswuxe has done an amazing job here making the physics and controls work great. The controls are nice and tight, you don't need to lift your thumb up to change directions, and the jump button is very responsive, and how high you jump is directly related to how long you hold on the jump button. The buttons are also placed very well, and are just the right size. The physics are great. The game doesn't feel floaty or weighed down at all, which is always very nice to see. It makes the game feel like a game that's meant to be played instead of a game that's meant to be fiddled with, struggling with the controls the whole way through.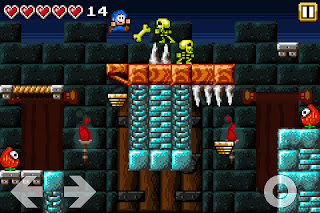 World 1 stars out pretty bland, but it's designed for you to get a real grasp on the levels and how the game works. Eiswuxe decided to make the first world available in the lite version, which might have been a mistake, because most of the interesting gameplay comes after the first world. World 2 gets more difficult, and way more interesting, as you're faced with enemies that throw objects at you, more platforms that move and take you to other parts of the level, bouncing spikes that you need to avoid, dashing enemies, enemies that you need to jump on in order to make it to other parts of the level, and enemies that need to be jumped on more than once in order to kill them. 
From here on, there's not too many new enemies, but you will facemore and different ones as you progress. The level design as you go along gets better and better as well, and level design in a one-screen platformer is very important. But just like the controls and physics, Eiswuxe has pulled it off almost flawlessly. There are a couple of areas that it's impossible to jump over spikes without an enemy being there, and a couple levels where the star is placed in an area where you'd need to jump on the last enemy in order to get there before the star shows up. You are given 5 hearts in each level, but having the stages set up this way just adds to the difficulty, and if you're really worried about getting 3 stars on each of the 60 levels, this adds to the re-playability of the game.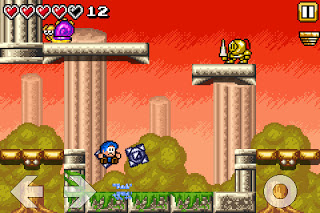 At the end of each world, you're faced by a boss, who takes 6 hits to kill. Each of the bosses has a special attack that you'll need to figure out in order to survive the battle. Also, at the beginning of each world, you're given a little clip of your girlfriend being taken to the next area where you'll be playing. The animations in Bloo Kid are done very well, even when you stop running your character starts to take deep breaths. It's got a cute factor to it, but it's a game with difficulty for sure. Especially if you're trying to get all the stars. Making it through some of the levels without taking damage might take you multiple tries, but each time you screw up, you're going to end up cussing yourself, and not the controls or game. The retro graphics are fitting, as it's a game that reminds me of older NES games with it's frustration level, and difficulty, and that just draws me to it even more.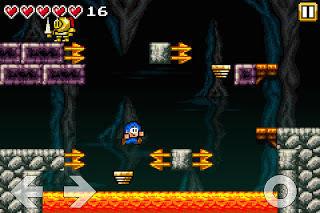 For their first game in the AppStore, Eiswuxe has shown that even though they're new, they can make a professional game with top notch controls and physics, along with wonderful level design. You can check out the lite version in the AppStore, but it only contains the first world, which isn't a very good representation of the entire game. I almost skipped out on this one because of the lite version, and it would have been a mistake on my end. But the lite version will give you a feel for the game, and let you check out the controls, physics, and first world level design for yourself. I'm giving Bloo Kid 4.5 out of 5 stars, and recommend it to all platformer fans. It could be a 5/5 game if it had online leaderboards, achievements, and some power-ups thrown in, but it's definitely a game that you will play all the way through, and then most likely end up going back to just to try and get most or all of the stars. For $0.99, it's a wonderful game.