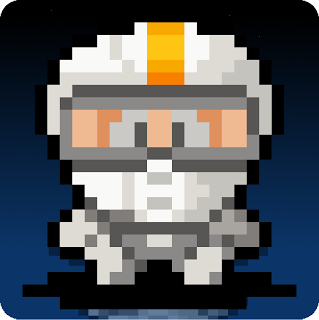 OrangePixel has proven, with their mobile game releases, that they are kings of the retro gaming world. Their lineup of Meganoid, Stardash, INC, Super Drill Panic and more now have another title that'll eat up gamers lives; Neoteria, an arcade inspired retro shoot-em-up with the difficulty level fans of OrangePixel have come to love and respect. And really, OrangePixel development merged with shmup gameplay… a pretty hardcore fan of both couldn't ask for more.
In the game, you'll start off with only Easy Mode selectable. As you progress through the first world, you'll unlock Normal Mode, and once you complete the first world on Normal, you unlock Hard Mode, which, if you're familiar with OrangePixel's games, is basically where the hardcore gamers will spend most of their time. You're given little snippets of the story as you make your way from world to world. The outer mining settlement is under alien attack, and it's up to you to stop them.
There are checkpoints throughout each world, set up kind of like levels. Each has 3 stars which you can earn by playing on all 3 difficulties. The first star is for beating the level on Easy, second star for Normal, and third for Hard. There are different paths which you can play through on your way through each world, with each path leading to the same end boss. You are able to go back and replay previously beaten stages if you'd like to power-up your weapon, which you do by collecting the blue crystals that enemies leave behind, or if you'd like to try and travel through all the paths in each world.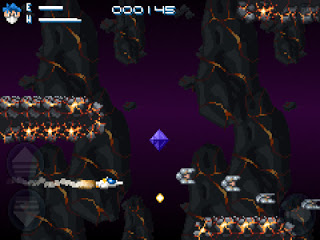 Graphics: 4/5
As with other OrangePixel games, Neoteria is done in a retro style that looks fantastic. However, there is one little drawback. On the iPad, the graphics have a little blur behind them whenever objects are moving. This includes the backgrounds, environments, player ship, enemies, and projectiles. It's not too much of an issue, because most of the time, you'll be focusing on the crazy amount of enemies coming at you, and trying to survive, but it is there. I'm not sure if it's there on the iPod, because of the smaller screen, but if it is, it's not noticeable.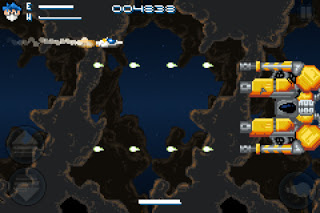 The controls for Neoteria aren't really what you would expect from a shooter like this, and it's where the arcade inspiration really becomes apparent. On the left side of the screen, you're given two buttons for movement of your ship up and down, and on the right side, there's a fire button, but you can tap anywhere on the right side of the screen to fire. There is no auto-fire, so you'll constantly be tapping on the right side of the screen to shoot. Here's where those quick tapping abilities all you old-school gamers should still have come in handy.
In the Controls Menu, you're able to move the buttons around as you see fit, which definitely comes in handy if you're playing on an iPad. However, the touch detection area is pretty small, and does not go outside of the buttons at all. This can result in your ship not going up or down because your thumb is the slightest little bit off. This is understandable, since you are able to move the buttons around, and could potentially have the up button pretty much touching the down button, and you wouldn't want the detection area to overlap. Being able to make the buttons bigger would be a nice way of fixing this, especially since they go invisible after a short time, and obscuring the gameplay area wouldn't really be an issue with it.
To top it off, it's also iCade and Joypad supported!
Content + Replayability : 4/5
Neoteria does not really have a whole lot of content, especially when compared to the insane amount of levels in OrangePixel's other titles. 3 worlds, each with 8 pretty short levels in them. I'm hoping that like their other games, Neoteria will get some nice content updates in the future. But like other shmups, the value is really in the replay value, not necessarily in the content, and Neoteria has it in spades. Yes, there are only 24 short levels in the game, but you'll be able to play through them with each of the 3 characters, and finding out how to make it into the hidden paths could take a while.
There's also the scoring system. At the end of each level, your score is based on the percentage of the level's enemies that you wiped out, your shot accuracy, and the score you built up while playing through the level. This does add an extra level of replay value, as the first couple times you play through the game, you'll probably be pounding away on the fire button, and then start trying to increase your score by getting higher accuracy percentages.
Neoteria is also supported by OpenFeint and GameCenter, with 12 achievements, and 3 leaderboards, one for each character (difficulty). So if you're a high-score chaser, battling for a higher position on the leaderboards is sure to keep you busy for some time. Getting all of the achievements should also take a while, as a lot of them are for finding the secret paths, and 100% completing each difficulty.
Granted, Neoteria isn't OrangePixel's best release to date, but I'm ecstatic that one of my favorite development teams released a shmup, one of my favorite type of games (yeah, I'm a platformer/shmup/strategy fanatic). The developers have said that they're working on another control scheme, as a few players aren't really comfortable with the current set-up, and I wouldn't be surprised if it got a few content updates as well. OrangePixel's other titles have also been known to get very fleshed out/extremely polished based on player feedback, so the distortion with the graphics, touchy controls, and any other issues that there might be, have a very good chance of being dealt with.
At $1.99, being Universal, having iCade and Joypad compatibility, as well as the crazy high replay value that comes along with shmups and games having GameCenter and OpenFeint support, not to mention, it's ORANGEPIXEL, it's a great buy.