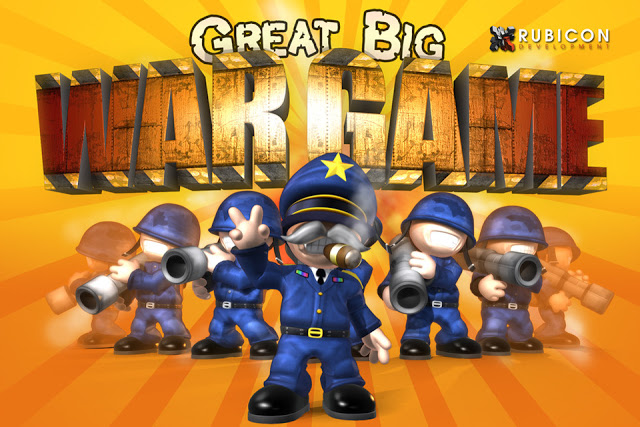 One of the biggest titles in iOS Turn-Based Strategy games, ironically enough named Great Little War Game, has finally come out with the sequel, Great Big War Game, and this time, Rubicon isn't messing around. Including 50 single player campaign missions, a whole slew of skirmish maps, Pass & Play gameplay, and probably the biggest feature; Asynchronous Online Multiplayer. Great BIG War Game, indeed.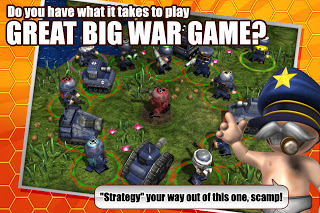 For those of you familiar with GLWG, Great Big War Game is basically more of the same. But those those of you who love GLWG, that is in no way a bad thing. At all. Great Big War Game picks up where the updates for GLWG left off, with more war advancing escapades from the General, Jenkins, and this time, a new female character, Candy. You're also outfitted with more units, more vehicles, and, in general, just a whole lot more. For those of you who haven't been lucky enough to experience the great gameplay of GLWG in the past, Great Big War Game is a turn-based strategy game that has you going up against the enemy, running a muck in turn-based warfare. It's gameplay is simple enough that newcomers to the genre can dive right in, but gets complex enough that hardcore fans of TBS gameplay will still have a challenge. And now, with Online MP, you'll be able to have even more endless replay value, with players of all skill types.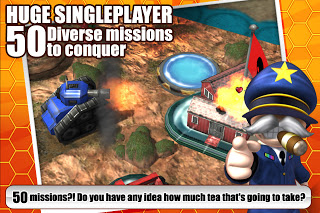 Now, along with the 50 Single Player Campaign stages, Skirmish Mode and Online MP Mode both have quite a few maps to play with. The game comes with 15 Maps, and has 3 more Map Packs available for purchase through IAP. Each of the Map Packs costs $1.99, and including a little something special. The War Chest Pack gives you 15 maps, and 150 Battle Points, which are points that you can earn in-game to permanently upgrade your troops for Campaign Mode, and clear the Fog of War. Map Pack 1 gives you 20 maps, and a new vehicle type, a flame shooting tank, while Map Pack 2 gives you another 20 maps, and a medic who can heal all your troops on the field. Rubicon has already stated that more maps will be added to these Map Packs, so if you purchase them now, you'll get even more maps for free in future updates. I guess now would be a good time to mention that Rubicon's support for Great Little War Game has been outstanding, and they have added quite a few maps to that game over the course of it's time on the AppStore as well, so this isn't just another empty promise from a developer who's support has been questionable in the past, or a new-comer to the scene, who promises content, and then later on down the road says that sales we're adequate to keep the updates coming (which is understandable, but always disappointing). 
The Online Multiplayer is handled through Rubicon's own servers, and even though some might prefer GameCenter, this allows for cross-platform play. That's right. You can play GBWG online on your iPad against a friend who's playing on an Android. Soon enough, GBWG will be available for the PC, Mac, as well as the BBPlaybook, which means that there's the potential of hundreds of thousands of players available for online play. What makes it even better, is that you don't exactly need to know anyone in order to add friends to your list. Once you type in a name, for example, Paul, all of the gamers who have started their online name with 'Paul' will be listed and available to add to your friends list. So even those of you dying to play online, but who don't know anyone, can still have a fairly good chance of finding online players. Surprisingly enough, I also haven't run into any issues with the online play. There's almost always bugs and issues which developers couldn't have caught during the Beta Testing, but Rubicon has obviously put a lot of time and effort into squashing all the bugs and getting rid of all the issues they possibly could, which is basically unheard of with iOS MP titles.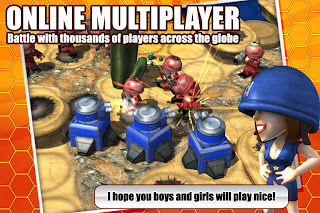 The controls in GBWG are great, and really, some of the best I've seen in a strategy title on the iOS. To move your units, you tap on them, and then tap on where you want to move them to, and the same goes for vehicles, while scrolling the map is done with a one finger drag, and zooming in and out is done by pinching and pulling. To see where your units can attack, you just need to hold down on the unit in question. Your typical TBS controls, I guess. But what makes them stand out is that I've never had an instance where my character didn't move to a location right next to where I wanted it to, I've also never had a character shoot an enemy target I wasn't targeting, and the units have never moved while selected, and while I've been dragging the map around. Responsive controls remove a lot of un-necessary frustration from games, and here, they're very smooth and very responsive. 
The graphics are a bit cartoony, but the animations are great. The explosions, taking aim and firing, getting hit, running around the maps, it's all animated beautifully, and even though it is a little cartoony, the game becomes very immersive because of how great it looks and plays. The music and sound effects are also top notch, with some typical war time music, and units calling out 'On point!' 'Bag 'em & tag 'em!' 'You need me?' and more, it's easy to get sucked into their world of obeying orders, and doing what you can for your side in order to win.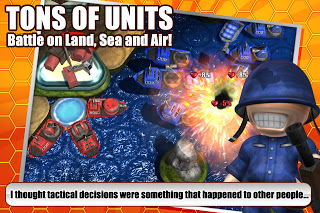 With Great Big War Game priced at $2.99, and being Universal, it's a great buy. There's loads of content with your original purchase, and even more available if you're wanting to throw a couple more bucks down, and Rubicon is a fantastic developer who has shown awesome support for their previous games, which makes it easy to want to support them in return. The endless play offers up the possibility of GBWG never being removed from your device, and as a sequel of one of the best TBS titles in iOS gaming, that possibility is multiplied by the great gameplay. Rubicon has definitely done it again, and I can't wait to get knee deep into the online play, and get to learn all of the maps. If you're a fan of the genre, GBWG is definitely a game you NEED to own. Finding another Strategy game with the amount of charm and astounding gameplay on the iOS is near impossible.