Vertex Blaster is a new dual-stick space shooter from Warner Skoch. In it, you travel around a sphere, blasting away enemies, upgrading weapons, dropping bombs and going for a high-score. There's 3 different game modes, each with different play styles. Arcade Mode, Meteor Shower Mode, and Survival Mode. Giving us loads of gameplay packed into this great game.
Arcade Mode, which drives you to get as many points as fast as you can, giving you more powerful weapons the more points you earn. The quicker you gain points, the better the weapon you're given. Usually going after asteroids here helps boost your weapon quicker, giving you a bunch to shoot at in a very compact area. Two types of bombs are key here, one is a decoy bomb, and the other is a regular, drop and explode bomb. Decoy bombs leave a decoy of your ship behind, and are very useful for distracting the multitude of enemies that will be swarming you on the sphere. You're awarded more bombs as your score progresses, regular bombs every 100,000 points, and decoy bombs every 150,000 points.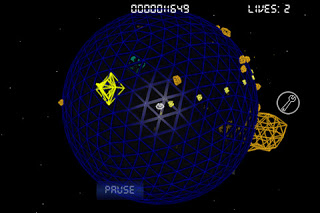 Meteor Shower Mode is a mode without enemies. You'll just spend your time blowing up waves of asteroids, and protecting buildings on the surface of the sphere. There's no bombs in this mode, but you do get a repair beam which helps you keep the buildings up and standing. In this mode it's very important that you don't hit the buildings with your weapon, or it'll damage them, and also make sure not to hit asteroids with your repair beam, or else they will get bigger, giving you more of a problem while trying to keep your buildings safe. The last mode is Survival Mode. In this mode, you gain points by staying alive. You can't earn extra bombs, and you don't gain points by killing enemies. This is more of a dodging mode, waving through the swarms ofenemies coming at you, trying to stay alive. You've only got one life in Survival Mode, so it tends to be the hardest mode out of the three, but is also just as fun. This mode is better for little spurts of gameplay.
The graphics in Vertex Blaster are great. The game looks and plays like a retro version of Super Stardust HD. The simple graphics are presented in retina display, and the game is universal, so you'll be able to enjoy the nice crisp graphics on your iPad as well. You can also pinch to zoom in and out of the sphere, taking you closer in, or further away from the action, which is a very nice addition to the game. The controls are spot on, and very responsive, even though the sticks don't move, you won't really notice while playing, because you'll be pretty focused on the super smooth action going on in the center of the screen. The bomb buttons are placed on the right side of the screen, one above and one below your firing stick. GameCenter leaderboards are included, along with loads of achievements, making the replayability factor pretty high.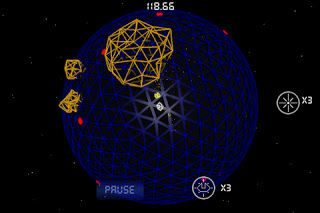 All-n-all, Vertex Blaster is a nice solid dual-stick space shooter. One that I'm very happy to have in my collection. The only complaint I have is that a couple of times, in the pause menu, I've accidentally hit 'Return To Menu' instead of 'Resume' causing me to loose my game. If the developer made it so that you were asked if you were sure you wanted to quit, it would fix accidents like this from happening, but I can't really hold it against the developer because it was my own fault. It would also be nice if there were more weapons added. It is very nice not having to pick up weapon upgrades, and that they happen automatically, but it seems like a variety of weapons would be a very welcome addition to this game. Auto Pause for when you take both thumbs off of the screen would be a very nice addition as well. Lots of dual-stick shooters have this mechanic in their game, and it seems to work really well. The last thing I would like to see changed is that you're thrown right into the action after you hit the button for whichever mode you decide to play. Having a countdown once your ship hits the sphere would be a great way to avoid some unfortunate off-the-bat deaths. Vertex Blaster is getting 4.5 out of 5 stars, and is recommended to any fan of the dual stick genre. At $0.99, it's an awesome deal, and will definitely give gamers hours upon hours of entertainment.