Carrot War is a new, and pretty original, line-drawing action game for the iOS by Sphinx Entertainment. As this is their first game in the AppStore, they're up against some pretty high-profile companies in the genre, but this isn't your typical line-drawing game. In Carrot War, you play as a rabbit who's home-planet was invaded by aliens who came to take all your precious carrots. You're the last hope of a dwindling civilization, armed only with a magic pen. The Rabbit Planet is counting on you to get the carrots back, and withstand the alien invasion.
The graphics in Carrot War are great. Showing the true professionalism of Sphinx Entertainment. Very smooth and flowing animations, along with nice explosion effects and great scrolling backgrounds are retina display supported, so you can experience all the beauty the way it's meant to be seen. The controls are very tight and responsive, which is very important in a line drawing game, but I haven't once died because I was busy fighting with the controls, or trying to get something just right. There's enough give in the game that if you die, it'll be because you weren't quick enough. Which brings me to the gameplay.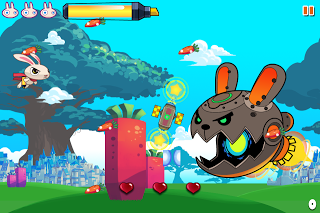 In Carrot War, your goal is to make it to the end of the level without loosing your 3 lives. If you're going for a 3 star performance, you won't want to loose one. You're also graded on how many carrots you collect and how many enemies you kill. To kill enemies, you're required to do different things for each of them. Most can be eliminated by connecting a line between the two or more stars that are floating around them. For instance, if there's just two stars around an enemy, you draw a line from one star to the other, going through the enemy, then it blows up. If there's three, you can draw a triangle, or a circle, so long as it goes through each of the three stars. If there's 4 stars, you'd draw a square. Killing more than one enemy at a time is pretty easy, because most enemies will stop moving if you place your finger on one of their stars, causing them to overlap each other, and making killing huge numbers of enemies a little easier. There's also enemies that can shoot at you, and in order to kill them, you draw a line from the projectile they shoot, back to their ship, there's bullets you can bounce off of lines, and much more. How long your line can be depends on how much ink you have in your pen, but this refills very quickly after using it, so you'll never be stuck waiting for the pen to reload. To avoid being hit, you can place your finger on your character and move him around the screen freely as well.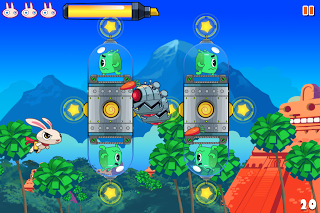 There's a total of 52 levels spread across 5 different worlds, each unlocking when you beat the boss at the end. There is quite a bit of difficulty within the game, as keeping up with the different enemies on the screen can get pretty hectic, but it's never frustratingly difficult. In a game with only one difficulty, finding the right mesh between easy and hard is never easy, but Sphinx Entertainment has done a great job here, making a game that gamers from casual to hardcore can play and enjoy. There's also an IAP purchase which gives you 3 extra lives per level, and 2 extra pens full of ink, so if you do find the game too hard, you can make it easier for $0.99.
GameCenter and OpenFeint leaderboards, and 12 achievements are included, and added with the 3 star rankings on levels, do help add to the replayability and challenge of the game. It's got smooth graphics, great gameplay, and music and effects that fit right in with the experience, but I would love to see some power-ups, or maybe upgrades in the future. It seems to be all that this game is missing. I'm giving Carrot War 4.5 out of 5 stars. Highly recommended to action and line drawing fans. It is $2.99, but right now it's on sale for $0.99, so pick it up before the price goes back up! If you do miss the sale, you can rest assured that this game is worth at least $2.99, and it will be spending quite a bit of time on my iPod.