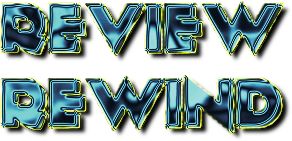 Alrighty, I'd like to welcome everyone to The App Shack's first ever Review Rewind, a new section of TAS that will spotlight reviews that were posted exactly one year ago, but only for games that are still on our devices today. Our very first Review Rewind is Newtype K.K.'s fantastic Aerial Combat title, Fractal Combat. One year ago today, I was first exposed to this amazing game. Since then, it's gone through 6 updates, and quite a few changes and tweaks, making the game better each time. It's made its way onto our
Writer's Favorites
list as my very own #10 favorite iOS game ever, and we also gave out 5 promo codes for it over the last week during our Big Ass Promo Code Giveaway, but if you don't have it yet, it's definitely one iOS title you need to own. Here it is; Fractal Combat. 
**Note: This review was written after playing Version 1.0.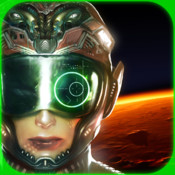 Fractal Combat is a new aerial combat game from NewType K.K. It's also their first offering to the AppStore, but it sure doesn't show in their presentation. Fractal Combat is a very polished, top notch aerial combat game. The fractal graphics are wonderful, the music is great, and the controls are user interface are phenomenal. I really was not expecting what I got out of this game. The animations of the exploding enemies, along with the flaming bits of wreckage you see after the explosion is great. You rarely find this much attention to detail within games like this on the iOS, and seeing that it can be done, and done very well, might make you start to think less of all the other aerial combat games in the AppStore.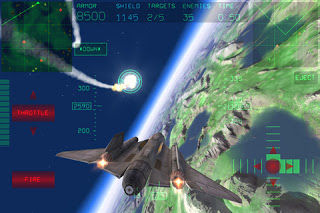 You're given 10 missions throughout each of the 7 different landscapes, that's a whopping 70 missions. Each of the missions it's your job to take out the targets, highlighted in red on the map. While you're going after the targets, you'll be bombarded by enemies that show up on the radar as yellow triangles. Each time you blow an enemy up, they leave behind some energy which if collected, gives you some shield. If you have no shield power, your armor, which is pretty much health, gets knocked down with each hit. Once you have no armor, you're dead, and need to start at the beginning of the mission. If you happen to succeed in the mission, you're awarded with a rating of 1 to 3 stars, along with credits which you can use to buy better weapons, generators, radars and even new ships in the garage. There's 5 ships total that you can unlock by progressing through the game, and then buy. Each has stronger armor, more shield capacity, and a different flight mode, or way of flying. For instance, you start off with a ship that has thrusters for flight, and the next ship up that you can buy uses magnetic rotors. There's 7 different weapons, each with different speed, range, damage, and other attributes. 3 different radars, and 5 different generators. There's slots in the game to have 6 profiles, so you can play the game on a device that's shared between friends or family, and not end up playing each others games, or you can just start from scratch, and re-organize how you set up your weapons and which ships you buy.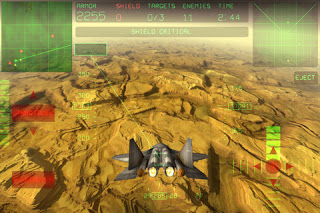 You are given two choices of control options, a joystick which you can have on the left or right hand side of the screen, or you can use your devices accelerometer, and tilt while you play. You can also set the sensitivity, angle of accelerometer, and put the throttle on the left or right side of the screen. Fire buttons are on both the left and right hand sides of the bottom of the screen if you decide to use tilt controls, and on the opposite side of the screen of the joystick, if you decide to use that control method. However, you are not able to change the Y direction, so pressing up on the control pad makes you go down, and pressing down makes you go up. Which is not the case for tilt controls, tilting the top of your iPod towards you makes the ship go up, and away from you to go down. This set up is a tad weird, but manageable if you're use to default settings in most aerial combat games. You can also change the music and fx volume, which is always a nice option, and there is, of course, a reset to default option, just in case you end up screwing everything up and want to start from scratch. All-n-all, there's quite a bit of customization going on in the options menu. But I think an option to turn the HUD display on or off would have been a good idea too, as it can seem kind of crowded on the screen, but not in a way that distracts from the gameplay.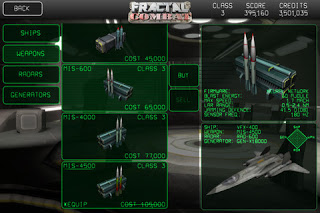 The only real thing I think this game is missing is another mode, or a story. I know it's not easy to create a story for a game, and it's pretty much pointless to just cram a story into a game just for the hell of it, but if Fractal Combat had a story to go along with the missions, like why you're fighting these ships, why they're you're enemies, something so that you know WHY, it would make this game a lot better. That, along with a survival mode, where you could take your fully equipped ship into a battle that only ended when you got shot down, would make this an even more amazing game. But with what it has now, Fractal Combat is still worthy of 4.5 out of 5 stars, and comes along with a strong recommendation from me. Anyone who's into aerial combat, flight sims, or just action and arcade games in general should check this out one, it's a game that you will never regret buying. It's universal, and only $1.99.


**Note: Fractal Combat is now priced at $0.99