IOS users eager to finally have the free time to be able to put their fantastic new 6S models through a bit of performance testing in real-world situations, will be able to assess its capabilities by playing the three beautifully detailed games discussed below.
Snowboard Party 2 is available from the Apple Store at £1.49 and is comparable in quality and fun to EA sports' SSX 3, and since this developer has to date not made the effort to bring its excellent game to iOS in a number of years players will now be able to enjoy Snowboard Party 2 instead. It's an absolutely awesome playing game since the developer added improvements containing 150 brand-new levels for players to grind and slide through. Players will also be able to select one of 16 individual characters they can further customise, design, and build up to their personal tastes.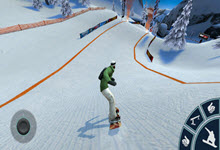 Buried Town, available from the Apple Store at £0.79, is an extremely fun game that offers light graphics in combination with a text based playing style. The game requires players to fight for their survival after washing up on an island in their canoe. While looking for more surviving members of your crew in a slog across the island you quickly realise a zombie horde has overrun the island. From that moment on, each minute requires you to fight for your survival, by avoiding disease and zombies while getting supplies, building shelters, and continuously working together with other non-playable characters in order to survive.
Moonlight Mah-Jongg is available for £0.79 from the Apple Store and has become a trusted sidekick to provide gaming entertainment to a multitude of users on iPhones for many years. It is one of the favourite brainteaser/time wasters while waiting for appointments or just trying to relax during a free moment of free time. The game graphics is delivered in an impressive 3-D virtual reality, where players can zoom, pinch, or rotate around the tile set on the table in order to figure out the tile layout.