According to statistical data collected and compiled by Forrester Research the well-known analyst firm, smart phone users spend up to 85% of their active device time engaging in activities via apps. However, in excess of 84% of this same time is spent actively using only five apps that they downloaded themselves and did not arrive preloaded on their smart devices. This is the reason why developers find cell phone users such a tough crowd to break into the realm and become one of the reliable software sidekicks such as Candy Crush, or WhatsApp.
Even after developers convinced users to download their apps, it still seems to be an insurmountable task of encouraging the selfsame users to develop the habit of utilising their apps. Fortunately the developers have not given up on this, a fact borne out by the numerous inventive ideas launched in the Apple Store. The below apps are definitely worth forming a habit about.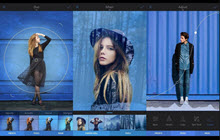 Enlight is certainly one of more impressive apps in 2015 in all its iOS representations, it offers the latest in improved photo editing software for mobile devices. The most basic level makes its ease-of-use truly user-friendly; however, the more users start exploring all its various customizable features the better their resultant photo shoots will become.
Dubsmash was technically released in the dying breaths of 2014, but truth be told the lip-syncing app only reached the level of a bona-fide mobile trendsetter during 2015. To quickly gained such popularity it leapfrogged the usual crowd that support early app adoption and leapt directly into mainstream use.
Camera51 became an instant hit on Android, and translated to an equally impressive performer as a newcomer to iOS, to provide a viable and improved alternative to any device's built-in camera's software. The app focuses on assisting both experienced and floundering phone camera users to improve their composition and framing, immaterial of whether they might be clicking away at landscapes, people or objects, including selfies.
WiFiMapper, quickly proved itself indispensable to frequent flyers finding themselves out of their depth in searching for a quick Wi-Fi access point that will allow them some basic browsing, texting, downloading, updating, and syncing without breaking their wallets. In this task this app becomes a precious resource, by providing 30 detailed map of all local Wi-Fi hotspots both paid and free access points, including important data that displays the usefulness and speed of each connection registering on their smart devices in their locale.