Newly designed apps executed in a brilliant fashion always makes for a welcome new addition to any App Store and even users that have already crammed their smart devices full of brilliant new apps and games will find a nook or cranny with space still available for that last, just one more fun, useful app as those discussed below.
Facebook has begun rolling out their newly added support to accommodate Live Photos on its latest update for its iOS app. The app allows its users to capture 1.5 seconds of video both before as well as after photo images. Live Photos is currently a joy users are exclusively able to capture on iPhone 6S and iPhone 6S Plus devices. However, Facebook being the dynamic entity it is, quickly responded to now offer the capacity to view Live Photos through its Facebook app loaded onto any iPad or iPhone, with the sole requirement that the device in question has iOS9 or later loaded.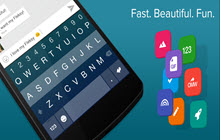 Fleksy updated their brilliant keyboard app with 3-D touch support now offered for Apple's iPhone 6S, is currently one of the top options in third-party keyboards. The Fleksy app recently received a newly updated version 7.5 featuring numerous excellent improvements. Tapping the Fleksy icon brings up a Quick Action menu that offers the capacity to quickly access the Stickers, GIF, and Settings sections. The list of improvements includes searching Emoji via the Highlights Extension, an additional GIF & Stickers tab, and numerous other additional options.
Santas Rooftop Run will provide hours of delivering stinker gifts in this brand-new Christmas seasonal themed endless runner, with the gift dependent on who was nice and who was naughty. It will have players jumping across reels, dropping smelly surprises or delivering a few jolly presents through chimneys along their way. The game offers simplistic controls that require players to simply tap for a jump or drop your stinkers or gifts. All chimneys marked Nice requires a sweet gift for a good kid; however, chimneys marked Naughty gets a stinker dropped to the naughty little bugger. Players will also be able to collect cookies and milk to increase their scores even further.