Since this week forms part of the post Christmas lull, it presents the perfect opportunity to test a few new games and these new games deliver the mechanism to fill your free time, all round bliss before the start of another perfect year. The games discussed below may not be flawless, but are certainly more than good enough to spend some precious free storage space on.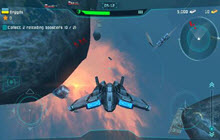 Jet Space is a great online shooter that recently soared into Google's Play store, and while there already exists numerous similarly fantastic Android-platformed space themed shooters few offers the tons of multiplayer and online capabilities available in this one. Just launched by Extreme Developers it offers play on a futuristic shooter based entirely online, allowing players to compete consistently in real time with like-minded players from around the world. Loads of daily challenges require completion, with the aim of assisting players to win gaming currency for the in game upgrading of their ships. Players can choose any of the 20 unique ships that will offer upgradable engines, energy shields, hull plate armouring, and weapons, via silver and gold currency earned by completing the daily in game challenges. Further spaceship customisation options such as unique identification details and more than a dozen camouflages to make ships even more attractive and unique. Loads of fair sized maps will keep players entertained for quite a while, before requiring any additional map upgrades.
Minecraft: Story Mode remains one of the better Telltale Games products released this year, the new version made it onto numerous top-10 Android games lists during 2015. All avid followers of the Android based Minecraft stories will be overjoyed with its just released Episode 4, titled A Block and a Hard Place, which leaves enthusiasts with just one more episode of the entire series outstanding. Sadly, Episode 4 ends the saga of the Wither Storm, which easily became one of the most memorable and exciting stories found in the entire series, fortunately the developer revealed that Episode 5 would arrive early in 2016.