Polarbit is no stranger to the AppStore, and their games are not lost on iOS gamers either. Fuzzies, Raging Thunder, Armageddon Squadron, and more, have all invaded iDevices, and marked their territory. The next obsession for Polarbit fans is now here; Tank Riders. This 3D tank battle game with both single and multiplayer modes offer up some pretty exciting gameplay.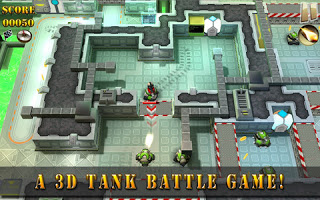 You'll guide a tank through 25 campaign levels using one of two control schemes; a virtual joystick for movement, and tapping where you want to shoot, and two virtual joysticks, one for movement, and one for firing projectiles. However, the second control scheme requires that you tap on the joystick every time you want to shoot, which can kind of get frustrating in the heat of battle. There are 3 star rankings for each level, based on score, which does help add to the replay value a bit.
Within the levels, you'll face off against enemy tanks in wonderfully designed 3D levels. There are wooden crates containing coins and health pick-ups, as well as coins scattered throughout the stages for you to pick up while taking out the enemies, following the path to the end of the level. There are some spots in the level which you can use as short-cuts, and pathways to hidden areas, but these are very hard to find, as no clues are given for where they are, ala Meganoid. It might not appeal to everyone, but it's great for you gamers who love some exploration. There are also portals in some of the levels, which will transport your tank across water, and high areas, where you wouldn't be able to reach otherwise. Switches which are activated by driving over them, or shooting at them, open up barricades to other areas as well, and will require some backtracking. You'll also be able to find weapon and shield pick-ups, including mortars, and missiles, both inflicting way more damage than your standard laser shots, but these weapon pick-ups are not carried over between levels.
As you might have guessed, the graphics and animations are top notch, and a very good example of what Polarbit is capable of. The environments are fairly detailed, and very vibrant, with trees, little ponds, rocks, grassy areas, and fog around the edges which really smoothes everything out and brings it all together. The animations for movement, projectiles, explosions, along with the tracks that are left behind your tank in the ground, and teleporting are all great, and really make the game come alive.
Now, I'd love to get into where most people would like to be spending their time in the game; multiplayer. But after spending roughly a total of an hour and a half in the game room waiting for other players, I was saddened when NOT ONE other person showed up. So I can't speak for what multiplayer is like, if it has lag, or if players have found cheats yet. I can say that there are 5 different maps to choose from, and they all look great from the small icon pictures of them that are shown, and there are no level systems, so everyone will start out with the same amount of health, defense, and weapons. Aside from that, I hope that sales pick up so that we can actually play multiplayer games.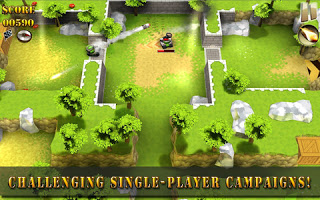 Priced at $1.99, and being Universal, it's a great buy. However, with multiplayer suffering, the lack of GameCenter, and only 25 single player levels, there's not a whole lot of gameplay available at the moment. If sales pick up, I can see multiplayer becoming a big deal, especially if it's got smooth gameplay. There are a couple of issues, like occasional short time freezing of the game, not triggered by anything specific as far as I can tell, and the sound cutting out for a short time if you get a call and come back to the game in-progress, all of which can be fixed with updates. Tank Riders is still a top notch tank battling game. One that looks and plays great, and is from a very responsive and supportive development group, so you know it's only going to get better and better with future updates, which does make it fairly easy to recommend. If you're a fan of the genre, or just action/arcade games in general, you should definitely pick it up, and help spread the word so we can get some multiplayer gaming on.