We all know Facebook as it has become a much bigger part of our lives than we are aware. See what friends have been doing over the weekend or sharing something about ourselves has become so easy with the features they have created.
Finding businesses or promoting your own business has become easy and members are able to share their products with millions of users at a time. Facebook has also made it easy to find old friends and to get in contact with current contacts from a mobile device or PC.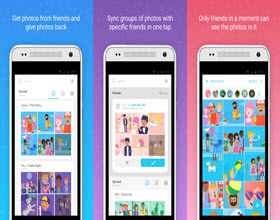 They have created another app for both iOS and Android that will assist users with the options to share pictures and videos within seconds. The biggest advantage about Moments is that you can tag friends instantly without needing to go search for them on Facebook.
The app will automatically group pictures together with various filters such as date, people in the photo, and much more. This means you can go into the Moments app and share photos instantly, which would already tag the friends involved.
Users can also take advantage o the app to sort pictures and keep ones together from a particular event, even when you don't share them. The app comes with various settings that will allow you to keep things in place easily exactly the way you want them.
If your friends also have photos from the event or that relate to those you've shared, they will be able to add them to those you have. This allows you to create a fantastic album with all the pictures that were posted by your friends. The app will automatically sort these photos and keep them together, making it easy to track down an image that you want to show someone or share with something on another social media platform.
The app can complete all the same features with Instagram, meaning any posts related to an event you've posted can be added to your folder if you want them to be. This means all the pictures from any event can be saved in one place, for each access, giving you the opportunity to keep those Moments close.