The French government has an app in place that will alert its citizen of any terror attacks. This is a great way to go ahead of the Euro 2016 that will kick off on Friday. The official name of the app is SAIP, which is the abbreviation for "Alert System to Inform Populations"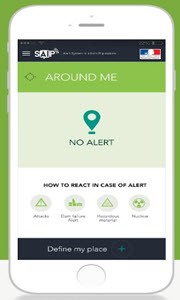 This app will alert users with regard to their geo-location on any suspected terrorist attacks. The reason this app was developed is after the November attach which happened in Paris and claimed 130 lives. British Foreign officials warned people that fan zones, transport hubs and stadiums were possible zones for targets by terrorists during the football tournament. As a user, one will be able to receive alerts on 8 geo-locations of their choice as well as their current location. The alerts will include information on what transpired and the best ways to stay safe.
A safety feature that this app comes with is that it will not vibrate or relay any sound to make sure that people receiving these alerts are safe if they are hiding. The government also affirmed the citizens that their safety will be well taken care of. Other versions of this app that might be released will alert users of other emergencies like floods or industrial accidents. The application is available to iOS and Android users.
The Paris terror Attack saw many people in fear of their safety and hundreds die as a result. This app is a great addition to help people stay alert, safe and in a position of knowledge should a terror attack occur on French soil in the future. The app has not been designed to vibrant or send audible alerts in order to ensure user safety in the event they are in a zone under attack, thereby not alerting attackers of possible victims in possession of smartphones or mobile devices. The app is available for iOS and Android.