Vera and John recently had to players win big with the casino and each player achieved their winning amounts in a different way, one as a series of wins not just a single big spin and the other is a single big spin when from a small wager. The most remarkable feature about these two winners is the strategy by which they achieved the success. The one player had Lady Luck smile on him in a big way the other had nerves of steel, but both deserve to be lauded for their accomplishments and tenacity.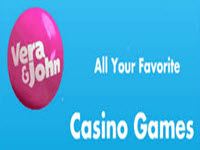 These two remarkable wins just brings to the fore Vera&John's ability and commitment to provide an equal playing field for all types and levels of players, from newbies to the experience of the ages, from high rollers to budget blokes. All are welcome and all are catered for to ensure an excellent casino player experience at an excellent casino run by an excellent team. First off were introduced to Daisuke a 27-year-old gentleman from Japan, who achieved the dream type win after he won on a single spin a €67,660 jackpot from a €0.75 wager! Daisuke represents the newbie that got lucky, who buys an admittance is not exactly a major gambler in fact just recently signed up for the first time to an on-line gambling establishment. He achieved is win, after about 15 minutes of play on NetEnt's Cosmic Fortune, one evening after not having played in a few days. He expressed his amazement at his win, since he never expected to win from such a small wager.
Our next contestant and the big winner of €60,000 introduce us to Johannes, who reached his remarkable achievement through dogged determination and sheer will. Johannes could not be more different from our first winner, a regular gambler, 58 years old, and from the Netherlands has been a regular patron at Vera&John for several years. Johannes achieved his most remarkable victories through series of wins over a remarkable three day fun park ride, after he decided to take a well-earned break from his busy work schedule with a few days extra to add to his weekend.