Alone is an isometric puzzle platform game from ITL Buisness Ltd. In it, there has been a terrible chemical warfare attack, and your city is left in ruins. Now you'll need to find a vaccine for yourself, and your girlfriend, while trying to survive the aftermath outside.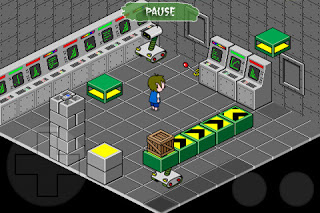 In the game, you'll go through 14 pretty short levels gathering different objects and items while going through traps and avoiding or killing the mutants that plague the town. Each level has a pretty straight forward objective, and usually only a few screens that you'll need to navigate through in order to complete the levels. You're given 3 different control schemes, a regular d-pad with attack and jump buttons, an isometric d-pad with 2 butons, or you can move by tapping in each of the 4 corners of the screen, double tap to jump, and swipe to use your weapons. I've found that the d-pads are the best way to navigate through the game, as using the 4 corners controls can get pretty frustrating.
The graphics are retro inspired, and work well with the feeling of the game, which is pretty surprising given the advances in graphics and the post-nuclear games that have come out over the years, and shaped the apocalyptic world for us, but the retro graphics are done well, and fit with the difficulty of the game. It reminds me a lot of old-school NES games.
The puzzles scattered throughout Alone are done pretty well, and are timed. This would be a nice feature if some online services were added. GameCenter leader boards for the fastest times in each level would be a great addition to the game, and add quite a bit of replay value. As it is right now, there's really not much drive to replay any of the levels after you've beat them. With each of the levels taking about 2 to 5 minutes to beat, it seems that having GameCenter or Openfeint should be included.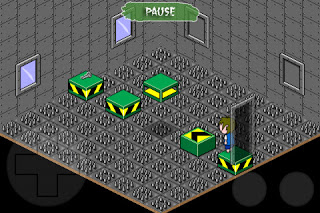 Aside from the lack of online features, there are endless possibilities with the addition of the online level editor. After you finish the 14 levels of the game, you can register at http://alone.itlgames.com and make your own levels. This does drastically help with the replay value of the game, but only if you have the drive to go online and work on your own levels. So in the end, Alone is a very nice isometric puzzle platformer. It is very short, but the time spent playing the game will be enjoyed quite a bit. If you're a fan of old-school gaming, or just want a platform game that will challenge you to think pretty quickly, with a nice environment, and good controls, Alone should be right up your ally. For $0.99, it's definitely a game worth checking out.
Alone is getting a score of 7 out of 10.