Many different apps will provide users with the ability to learn a new language, improve their communication skills, and even provide a better dictionary that will enhance your texting. However, with Vocabulary Builder, users will be able to enjoy learning while playing a game and achieving the new levels.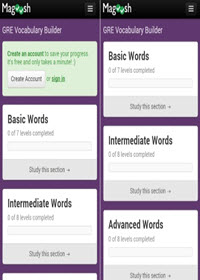 The app provides multiple levels and over 1,200 worlds, which are updated on a regular basis with new words. At the beginning stages of the app, you will be able to start off small. The app with automatically learn if you are o a more advanced level and move you up faster to the next step.
The app is focused on providing users with new words of the English language while also showing you new ways to learn words you already know. This means users will be able to find out more about the words you already know and different ways to use them while also taking advantage of new words and how they can be used to enhance your language ability.
The interesting part about the app is having the capacity to challenge other users. These can be friends or just random members online. The challenges have been created to place members on the same level together. This means you won't go up against someone on a much higher level than you are.

Words with Friends
Words with Friends is also an app that will provide users with the ability to learn new words, but also assist in spelling. The app is in the form of a game much like Scrabble, which allows you to challenge other players online. Players can also face off against friends and family.
There are also levels involved with the game, meaning you will be able to play against players on your level. The app is easy to use and playing against the computer is also optional to increase your scores. Words with Friends in a free app and can be downloaded on both iOS and Android devices.
There are also many other apps that can assist in improving your language abilities no matter what language you speak. There are many app developers out there that have created amazing apps such as those mentioned above.